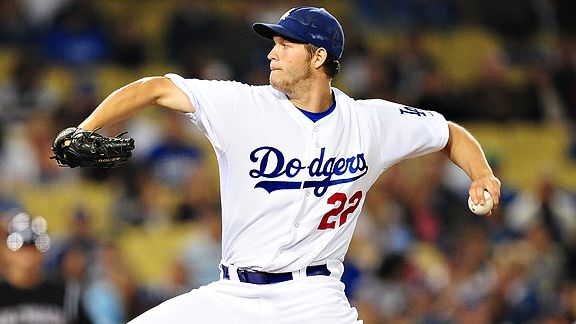 Gary A. Vasquez/US Presswire
Clayton Kershaw pitches in the first inning of the NL West clincher against Colorado.
Before we go any further, Josh Wilker's Cardboard Gods piece on Burt Hooton is better than anything you'll see in this post.
And with that introduction …
* * *

Now that we've spent some time chewing on the gristle, let's take a look at the meat. Here are the 19 folks who, short of an injury or a trade, will be on the Dodgers' Opening Day roster.
I'm finding the more I look at the starting rotation, the higher I am on Clayton Kershaw and Chad Billingsley, and the lower I am on Hiroki Kuroda and Vicente Padilla. I'm also feeling pretty sanguine about the seven locked-in spots of the lineup, despite the aging players at shortstop, third base and left field. (Well, they're aging at every position, but you know what I mean.)
Starting Pitchers (4)
Clayton Kershaw, LHP: The injury to Kershaw's non-throwing shoulder last summer might have been a blessing, reducing the wear on his arm in his first full season in the majors. Turning a wizened 22 on March 19, Kershaw will try to build upon what was quietly a remarkable year, one in which he led National League starting pitchers in fewest hits allowed per nine innings. The quiet part had to do with his poor run support; he faced 289 batters after the All-Star Break and allowed only two home runs, recorded a 2.27 ERA, yet was credited with one win. In his final six quality starts of the season, Kershaw was winless. The four times he struck out 10 or more in a game, Kershaw was winless.  Much will be expected of Kershaw in 2010, especially if he can reduce his wildness, but Torre will have to be careful not to fall so deeply in love with Kershaw that he overworks him.
Chad Billingsley, RHP: Goodness, I've written volumes on Billingsley the past year. Just a sampling: His overall credentials. How Joe Torre has used him. Comparing him with Justin Verlander. Comparing him to Brandon Webb and Dan Haren. The fact that he actually had a good August. The fact that he has performed well the overwhelming majority of the time, including pressure situations. It all adds up to the same total: a very good pitcher who had some struggles, none of which should permanently halt the 25-year-old's upward trajectory. I can't wait to see him back on the mound again.
Hiroki Kuroda, RHP: Kuroda made only start before June 1, then came back with two fine efforts against Arizona and Philadelphia – the latter featuring six innings of shutout ball that lowered his ERA to 1.62. But it got pretty rocky after that, as only one of his next eight starts was above par. Abruptly, Kuroda turned it around and was in the process of making his fifth consecutive quality start when Rusty Ryal's line drive got him, cranium-style. The quality of the opponent doesn't really seem to matter much – Kuroda has been inconsistent in both his Dodger seasons. By the end of the year, the numbers have added up to above-average performance, but he turned 35 last Wednesday and is still an injury concern, so it's fair to wonder how long that equation will last.
Vicente Padilla, RHP: I'm trying to find reasons why Padilla's super performance with the Dodgers wasn't a fluke, and I'm coming up kind of empty. For his career, including the NL portion from 1999-2005, he has struck out 6.2 batters per nine innings. With the Dodgers, it's 8.2. I'll grant that Padilla might be adequate this year, but I'm struggling to buy into a full Renaissance. I mean, Carlos Perez had a nice September once upon a time.
Bullpen (5)
Jonathan Broxton, RHP: One of 14 relievers to blow a save or take a loss in the 2009 postseason (along with Joba Chamberlain, Ryan Franklin, Brian Fuentes, Brad Lidge, Joe Nathan, Jonathan Papelbon and Huston Street, among others), Broxton is, in my view, the best closer in the NL. The 2008 and 2009 losses to Philadelphia were painful, but if you're using them against him in evaluating Broxton, I hope you're doing the equivalent for all the others.
George Sherrill, LHP: For all the grief that Broxton got at the end of the playoffs, Sherrill had the rockier postseason, allowing four runs on seven baserunners in 4 1/3 innings. Before that, Sherrill's numbers were ridiculously good with the Dodgers, allowing two runs in two months in the regular season (plus three inherited runners). His overall 2009 ERA was more than three runs lower than his 2008 ERA.
Ronald Belisario, RHP: A year ago, Belisario was a 26-year-old water-treader who was a Spring Training afterthought – or nonthought. Now, he's the Dodgers' top righty set-up man after striking out nearly a batter an inning with a 2.04 ERA in 69 games. You have to look real hard to see a dropoff in Belisario's numbers after his midsummer stint on the disabled list: 2.42 ERA, 8.6 K/9, .575 OPS allowed before; 1.21 ERA, 7.3 K/9, .589 OPS allowed after.
Ramon Troncoso, RHP: Much of my musing time on Troncoso is spent wondering if he'll repeat Cory Wade's 2009 downfall. The reason might not be justified; it's tied to the decline in Troncoso's strikeout rate to 6.0 per nine innings. On the bright side, Troncoso's groundball rate is still much better than Wade's ever was. Troncoso has allowed five home runs in 120 1/3 career innings, and his career slugging percentage allowed is .348. That helped Troncoso strand 27 of 32 inherited baserunners in 2009.
Hong-Chih Kuo, LHP: Kuo pitched 30 innings in 2007, 80 innings in 2008, 30 innings in 2009. So of course I envision big things for 2010. … In his last 110 innings, Kuo has 128 strikeouts against 120 baserunners, a 2.37 ERA and a .575 OPS allowed, and he has stranded 26 of 30 baserunners. He's 28 years old; fate needs to give this guy a little more time in the sun.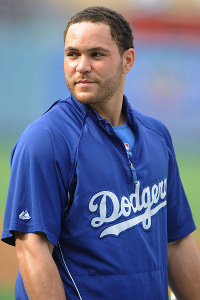 Russell Martin
Catchers (2)
Russell Martin, C: It really is a stunning drop: Martin's slugging percentage in 2009 was 30 percent lower than his 2007 mark (.329 vs. .469). Having turned 27 Monday, Martin should be entering the prime of his career, but instead the questions are whether he will ever recover from his slide. Your (all-)star has certainly fallen when people begin suggesting you should be replaced by career minor-leaguer A.J. Ellis. That solution doesn't really make sense: Ellis' only offensive skill is the one Martin has retained: on-base percentage. In any case, no one's really interested any more in Spring Training stories about Martin's off-field habits, good or bad. It's all about what happens on the field and whether the ball will jump off his bat ever again.
Brad Ausmus, C: You'd think that Martin's disappointing 2009 would have shot down all the "Brad Ausmus is a great mentor" talk, but apparently not. Fun fact: Ausmus reached base twice in each of the four games he played in July. The Dodgers went 4-0 in those games. Then they lost in his first five August appearances.
Infielders (4):
James Loney, 1B: Others have noted that in 2008 and 2009 Loney had the same number of plate appearances (651), home runs (13), RBI (90) and stolen bases (seven). But as Mike Petriello wrote in the Maple Street Press 2010 Dodgers Annual, there's reason to believe Loney hasn't stagnated, noting among other things his improved strike zone discipline. We're still trying to understand how Loney could OPS .640 at home in 2009 and .862 on the road.
Rafael Furcal, SS: If you look at Fangraphs' Wins Above Replacement rankings for shortstops in 2009, Furcal was fourth in the NL and eighth in the majors. Not bad for a season that was mostly a bummer. Credit his high ranking to being tops in the NL defensively, if you buy into their system. Furcal's OPS by month in 2009: .663, .566, .658, .895, .563, .891.
Casey Blake, 3B: You could make the case that 2009 was the best or second-best year of Blake's career, at age 36. And while so many were busy crowning Juan Pierre team MVP because of his performance during Manny Ramirez's suspension, Blake quietly had a .901 OPS, slugging .530 and reaching base in all but five of the games he started during that time. If he's going to have a dropoff in 2010, at least Dodger fans can console themselves that he's dropping from a higher plateau.
Jamey Carroll, 2B-3B: The most on-base happy part-timers for the Dodgers in the 2000s include Willy Aybar (2005) .445, Chad Kreuter (2000) .416, Dave Hansen (2000) .415, Jose Cruz, Jr. (2005) .391, Alex Cora (2002) .371, Jose Hernandez (2002) .370, Jeff Reboulet (2001) .367, Andy LaRoche (2007) .365, Olmedo Saenz (2006) .363 and Antonio Perez (2005) .360. With Cleveland each of the past two seasons, Carroll has been at .355, and will be hoping a return to the NL gives him a boost after he turns 36 Friday.
Outfielders (4):
Manny Ramirez, LF: Not much more to say about Ramirez this week after this. But not to leave you completely dry: Ramirez's OPS+ of 155 in 2009 was the 25th best in MLB history among players 37 and older (minimum 400 plate appearances) and the best in Dodger history.
Matt Kemp, CF: Kemp was on track for an even more spectacular season than the one he had in 2009, but he OPSed .586 after September 1 (despite a 13-game hitting streak mid-month). He went 4 for 31 with one walk and no extra-base hits or stolen bases in the final nine games of the season. He put all that behind him to hit a huge home run in his first playoff at-bat. Kemp is still going to have downs with his ups, but the notion that he can't counter-adjust to big league pitching seems to be out the window.
Andre Ethier, RF: Los Angeles Dodgers who have had consecutive seasons with an adjusted OPS of more than 130: Tommy Davis (1962-63), Willie Crawford (1973-74), Steve Garvey (1974-76, 78-79), Jimmy Wynn (1974-75), Ron Cey (1975-76, 78-79), Reggie Smith (1977-78), Dusty Baker (1980-82), Pedro Guerrero (1981-85), Mike Piazza (1993-97), Gary Sheffield (2000-01), Shawn Green (2001-02), Andre Ethier (2008-09). Davis, Crawford, Garvey, Guerrero and Piazza were the only ones to do it before turning 28 (Ethier's age in April).
Reed Johnson, OF: Johnson historically has hit lefties well, so you might see him spot-start for Ethier against southpaws (if only on the road?). Against righties, Johnson ain't so hot (.707 career OPS, .628 in 2009) – so on the days Ramirez gets a breather against a right-handed pitcher, the Dodger lineup will take a beating unless (or even if) Blake DeWitt, Xavier Paul or Brian Giles makes the team.