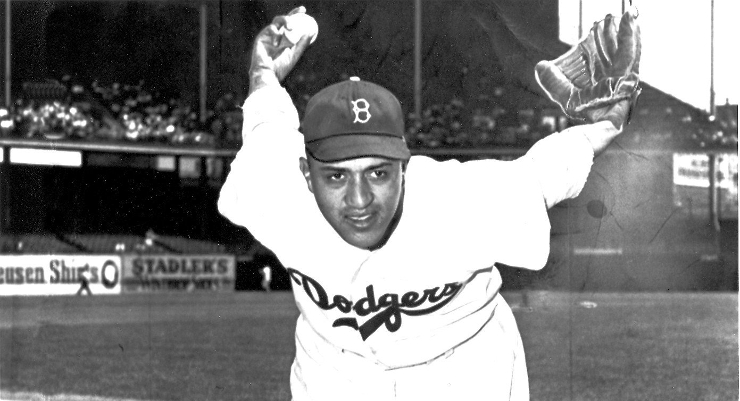 Don Newcombe has passed away today at the age of 92. In honor of the inspiration for my book, Brothers in Arms: Koufax, Kershaw and the Dodgers' Extraordinary Pitching Tradition, here is the entire chapter devoted to Newcombe. 
Don Newcombe
The agony. The terror. The hopelessness. The tears. The pain.
At the climax of his incredible career, these were the feelings that consumed Don Newcombe.
It's all hard to imagine, hard to reconcile with the image that remains of the burly 6-foot-4 right-hander pitching like the side of a mountain coming at you from 60 feet, 6 inches away, or with his regal presence at Dodger Stadium in the 21st century, floating into the stands during batting practice in a suit and hat past his 90th birthday, with present-day members of the team lining up to spend time.
But Newcombe's sublime legacy has masked the heartache that came along the way.
Surely it should have been enough, more than enough, just to endure, just to survive, as an African-American pitcher in the opening decade of Major League Baseball's integration. The attacks and the indignities, big and small, on and off the field, could have broken Newcombe, who wasn't the first player to sever the color line like Jackie Robinson, nor the first pitcher like Don Bankhead, but who was years younger than either — a mere 23 — when he took the stage for Brooklyn in 1949.
But on top of it all, like a fusillade of fastballs to the gut, Newcombe was repeatedly drilled during his big-league career, by fans, by the media, even by managers and teammates. Some of the damage was self-inflicted, brought on by his own behavior. Much, however, was superfluous, misguided and even cruel, judging Newcombe by his shortcomings – real or imagined – no matter how numerous his successes.
The pressure and expectations crescendoed into a collapse, a breakdown of a vulnerable soul that few understood. That he eventually recovered to give the rest of his life back to the game and its players is as important as the story that preceded.
His journey, as much as that of any pitcher in Dodger history, is profound.