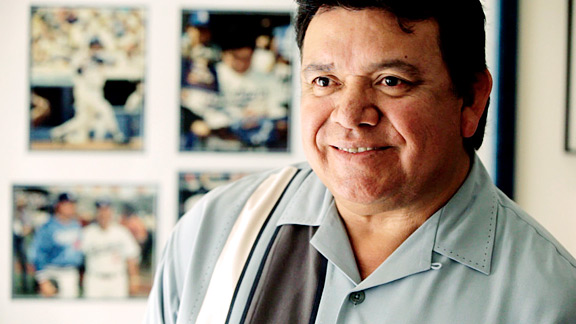 ESPNFernando Valenzuela
ESPN's strong "30 for 30" sports documentary series finds its way to Fernandomania on October 26 with "Fernando Nation," directed by Cruz Angeles.  Here's the set-up, courtesy of the ESPN press release:
" 'The Natural' is supposed to be a blue-eyed boy who teethed on a 36-ounce Louisville Slugger. He should run like the wind and throw boysenberries through brick. He should come from California." – Steve Wulf, Sports Illustrated, 1981.

So how was it that a pudgy 20-year-old, Mexican, left-handed pitcher from a remote village in the Sonoran desert, unable to speak a word of English, could sell out stadiums across America and become a rock star overnight? In "Fernando Nation," Mexican-born and Los Angeles-raised director Cruz Angeles traces the history of a community that was torn apart when Dodger Stadium was built in Chavez Ravine and then revitalized by one of the most captivating pitching phenoms baseball has ever seen. Nicknamed "El Toro" by his fans, Fernando Valenzuela ignited a fire that spread from L.A. to New York—and beyond. He vaulted himself onto the prime-time stage and proved with his signature look to the heavens and killer screwball that the American dream was not reserved for those born on U.S. soil. In this layered look at the myth and the man, Cruz Angeles recalls the euphoria around Fernando's arrival and probes a phenomenon that transcended baseball for many Mexican-Americans. Fernando Valenzuela himself opens up to share his perspective on this very special time. Three decades later, "Fernandomania" lives.
To be clear, the tearing apart of the community in Chavez Ravine began long before Dodger Stadium entered the picture (see Chapter 11 of "100 Things Dodgers Fans Should Know & Do Before They Die").  In any case, I'm really looking forward to this special.
That Steve Wulf story, by the way, was published in March — a rare national acknowledgment of the potential Valenzuela had before his memorable 1981 season began. Here's another excerpt: "Valenzuela was born Nov. 1, 1960 in Navojoa on the west coast of Mexico. The Dodgers know this because (Al) Campanis sent Mike Brito, the scout who signed Valenzuela, to Navojoa to pick up his birth certificate. 'I knew nobody would believe how young he was, unless we got some proof,' says Campanis."
* * *