Gosh, I'm sort of flummoxed – so flummoxed that I'm googling video of a show I never watched. I really just planned to talk about Chad Billingsley and his very interesting outing.
But I can't exactly ignore the Dodgers coming back to tie tonight's game against Arizona with two out in the eighth on a double error by Kelly Johnson. And I really can't ignore the Dodgers winning, 5-4, in the most esoteric way I can recall, on a blink-and-you-missed-it, don't-blink-and-you-still-might've-missed-it balk by Esmerling Vasquez to score Casey Blake.
All I can tell you is I watched the replay about a half-dozen times, and I didn't see enough of a balk that I would have expected it to be called. Valdez's twitch could easily have been written off as part of his movement off the rubber – especially at this stage of the game. If it had happened against the Dodgers, it would have been an infuriating way to lose – more infuriating than seeing Andre Ethier's two-on, one-out line drive in the third inning turned into a double play, more infuriating than James Loney's leap and subsequent crisis of faith, trying to advance to third base when the infield creeped in front of him with none out in the ninth and getting caught.
But thankfully, this infuriation is not on my plate. It's over at places like AZ Snakepit, whose Jim McLennan points out that since 1954, there have been fewer walkoff balks in baseball than perfect games.
Part of me wonders whether the Dodgers won this game Thursday in Chicago, when Blake made himself a public expert on balk rules while protesting Ted Lilly's position on the pitching rubber. Maybe he's really got the umpires' attention now. Who knows?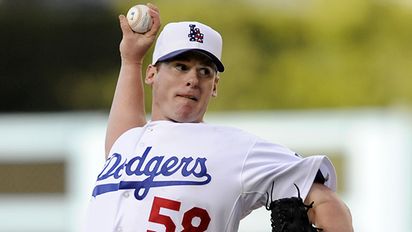 Gus Ruelas/AP
Chad Billingsley went a season-high eight innings, allowing four runs on six baserunners while striking out 11.
In any case, the Dodgers took a balkoff walk for the second time since 1969 and first time since 1989, according to the Dodger press notes. And in doing so, averted a sour start to the homestand … and completed the journey of Billingsley's outing from bizarre to quietly kinda awesome.
Billingsley faced 10 batters before his fielders recorded an out, allowing a double and three homers while striking out six in the first two innings. Pretty crazy. But from that point on, he gave up two hits and no runs over the next six innings, finishing the night with 11 strikeouts and no walks in eight innings. You wanted a Billingsley who throws strikes, you wanted a Billingsley who's resilient after a rough start – you wanted, in other words, the Billingsley that has been there almost his entire career  – you got him. (You also got a Billingsley who threw 120 pitches, his most since May 14 of last year and the second-most of his career.)
Not to be forgotten completely: Manny Ramirez hit his 550th career homer, while Matt Kemp and Rafael Furcal combined for five of the Dodgers' seven hits on a night that Rodrigo Lopez otherwise owned them.
Update: A.J. Hinch saw the balk and didn't argue.