[mlbvideo id="34983651″ width="550″ height="308″ /]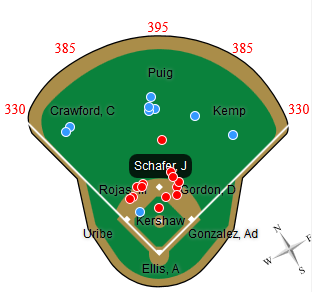 So, what's new with Clayton Kershaw?
He pitched his second complete game in a row — a 2-1 victory (the Dodgers' sixth in a row) over Atlanta that was a shutout for the first 26 outs.
In tonight's game, he struck out nine, walked none and allowed no fly outs to the outfield. None. (See the spray chart at right to see just how deep the Braves didn't take Kershaw.)
He has 150 strikeouts and 15 walks this season, for a 10.0 K/BB ratio.
He has a 1.71 ERA in 2014.
He has allowed 12 earned runs in his past 99 innings. Taking out my trusty abacus … that's a 1.09 ERA.
In his past 506 innings, dating back to June 2012, Kershaw's ERA is 1.99.
– Jon Weisman