Month: June 2011
(Page 1 of 6)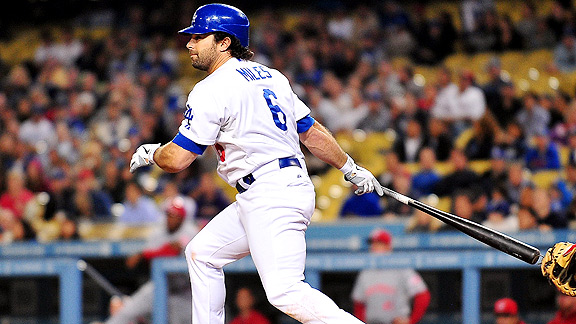 Gary A. Vasquez/US PresswireAaron Miles, .311 hitter.
Painful. Just painful to try to rank these guys. It is a dog-eat-cog world.
Anyway, remember: We at ESPNLosAngeles.com would still like to hear your stories (approximately 500 words) of how you became Dodger fans, what the team means to you and how recent events have affected you and that fandom. Send your stories to this mailbag link. We'll publish a great sampling of them.
If you're having any trouble submitting, quit your web browser and try again. That seems to help in several cases.

| | | | | | | | |
| --- | --- | --- | --- | --- | --- | --- | --- |
| Today | 6/16 | 5/26 | 5/5 | 4/28 | 4/7 | Player | Comment |
| 1 | 1 | 1 | 1 | 1 | 2 | Matt Kemp | OPS has not dipped below .920 at any point this season. |
| 2 | 2 | 2 | 4 | 4 | 1 | Clayton Kershaw | In innings 1-2 in 2011, opponents are 13 for 115 (.113) with five walks, 42 K. |
| 3 | 3 | 3 | 3 | 3 | 4 | Hiroki Kuroda | Has 3.10 ERA but on pace for 18 losses, most by Dodger since Don Sutton in '69. |
| 4 | 5 | 4 | 2 | 2 | 3 | Andre Ethier | Has .392 OBP; L.A. Dodgers have had 17 players finish at .400. |
| 5 | 4 | 5 | 9 | 6 | 5 | Jamey Carroll | Since going 7 for 10 in Colorado, he is 5 for 31. |
| 6 | 7 | 13 | 20 | 21 | 20 | Aaron Miles | Meet June's NL batting champ (.419). |
| 7 | 16 | 6 | 6 | 7 | 18 | Chad Billingsley | Expected Fielding Independent Pitching (xFIP) of 3.31, compared to 4.22 ERA. |
| 8 | 14 | 23 | 32 | 23 | 17 | James Loney | .365 OBP since May 1. Bat him second, Kemp third, Ethier fourth? |
| 9 | 8 | 22 | — | — | — | Rubby De La Rosa | 6.75 ERA at home, 2.50 ERA on road. |
| 10 | 15 | 15 | 10 | 15 | 22 | Blake Hawksworth | Since coming off DL: seven baserunners, two earned runs in 10 2/3 innings. |
| 11 | 22 | 17 | 18 | 20 | 24 | Kenley Jansen | Opponents 1 for 19 with three walks, nine strikeouts since return from DL. |
| 12 | 10 | 19 | — | — | — | Javy Guerra | Needs six saves to pass Broxton for team lead. In 82 games, Dodgers have had 21 save opps. |
| 13 | 9 | — | — | — | — | Dee Gordon | Objectively, should be optioned when Furcal returns. Subjectively … |
| 14 | 11 | — | — | — | — | Josh Lindblom | Has really Lind-bloomed this year – looks more like future relief mainstay. |
| 15 | 12 | 16 | 7 | 5 | 10 | Casey Blake | Even with three-hit game Monday, had .250 OBP, .261 slugging in June (73 PA). |
| 16 | 30 | — | — | — | — | Trent Oeltjen | Raised OBP to .481 in 28 plate appearances. |
| 17 | 6 | 10 | 17 | 18 | 14 | Ted Lilly | 37 HR allowed in past 12 months; Kershaw has allowed 39 HR in career. |
| 18 | 29 | 28 | 14 | 17 | 12 | Tony Gwynn Jr. | Tied for NL lead in OF assists with eight. |
| 19 | 13 | 9 | 13 | 9 | 6 | Rod Barajas | Steady as ever: eight homers, eight walks. |
| 20 | 20 | 12 | 8 | 10 | 25 | Juan Uribe | Probably the Dodgers' most valuable defensive player this year. |
| 21 | 23 | 21 | — | — | — | Scott Elbert | Has faced seven batters since June 14 (0 for 6 with BB). |
| 22 | 17 | 7 | 16 | 14 | — | Jerry Sands | .398 OBP, .603 slugging in AAA since demotion. |
| 23 | 19 | 8 | 11 | 11 | 13 | Mike MacDougal | Spent 10 minutes looking for an interesting note, came up empty. |
| 24 | 18 | 11 | 5 | 8 | — | Jon Garland | So, who remembers Garland's complete game this year? |
| 25 | 28 | 20 | 21 | 22 | 15 | A.J. Ellis | Career .355 OBP now. Let him start. |
| 26 | 21 | 14 | 12 | 12 | 8 | Matt Guerrier | Nine of past 14 baserunners allowed have scored. |
| 27 | 25 | 18 | 30 | — | — | Jay Gibbons | One HR in first 25 G with Albuquerque, two HR in his past three G. |
| 28 | 34 | 26 | 22 | 13 | 19 | Marcus Thames | Since starting season 6 for 42 (.143), has gone 7 for 22 (.318). |
| 29 | 26 | 24 | 15 | 19 | — | Vicente Padilla | Still second on Dodgers in saves with three. |
| 30 | 27 | 25 | 19 | 16 | 9 | Jonathan Broxton | Could have fewest saves (7) for team leader since Bobby Castillo in 1979. |
| 31 | 24 | 33 | 35 | 33 | — | Ramon Troncoso | Full name is Ramon Landestoy Troncoso. Like the former infielder, was born in Peravia province of Dominican Republic. |
| 32 | 35 | 27 | 27 | 29 | — | Dioner Navarro | In past 64 PA, has seven hits, five walks (.194 OBP). |
| 33 | 31 | 36 | 23 | 24 | 7 | Rafael Furcal | Looking good in rehab: 18 PA in four games, .444 OBP. |
| 34 | 41 | 38 | 24 | 25 | 16 | Hong-Chih Kuo | Could be first Dodger pitcher whose ERA multiplies by 10 in one year (1.20 to 11.05). |
| 35 | 32 | 31 | — | — | — | Juan Castro | 2,849 career PA, one HBP. |
| 36 | 33 | 30 | 29 | — | — | Russ Mitchell | Endured an 0-for-7 for Isotopes on Monday. |
| 37 | 36 | 29 | 25 | 27 | 11 | Xavier Paul | Batted .297 in June, but with only two walks. |
| 38 | 37 | 32 | 26 | 26 | — | John Ely | On June 29, 2010, Ely had his eighth and final quality start of season. |
| 39 | 38 | 37 | 33 | 27 | 26 | Ivan De Jesus Jr. | Doesn't seem to be a there there. |
| 40 | 39 | 34 | 28 | 30 | 21 | Hector Gimenez | Has .747 OPS for Double-A Chattanooga. |
| 41 | 40 | 35 | 31 | 31 | — | Jamie Hoffmann | Second on Isotopes with 13 homers. |
| 42 | 42 | 39 | 34 | 32 | 23 | Lance Cormier | Has 3.14 ERA for Durham in 14 1/3 innings. |