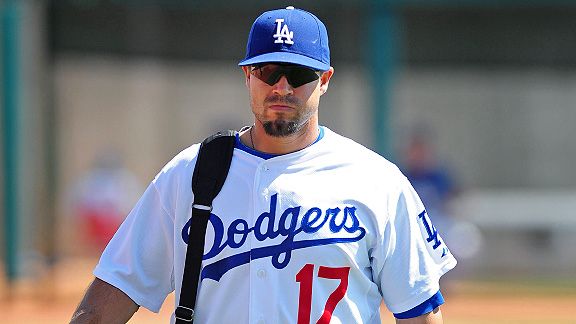 Mark J. Rebilas/US Presswire
Jason Repko
One of the highlights of the Maple Street Press 2010 Dodgers Annual was the feature by Albuquerque Isotopes broadcaster Robert Portnoy on cup-of-coffee men Jason Repko and Mitch Jones. In particular, you really come to understand how brutal the injuries were that Repko faced early in his professional career. They sapped his greatest potential away.
Just for starters in 2000: right hamstring blown out, two tendons torn away from the bone in his right leg, stress fracture in his back. As Portnoy writes:
… While the hamstring healed, the back did not. Repko wore a form-fitting brace for eight weeks, immobilizing him from his armpits to his hips. Still considered the number four Dodger prospect entering 2001, Repko played in constant pain and batted just .220 over 88 games at Low A Wilmington.

After the season, doctors told him the fracture remained in the L-5 vertebrae. Then they told him something shocking: Break the same vertebrae on the other side.

"They told me it was putting stress on the other side," Repko said. "They said, 'If you can handle playing with it, dive hard and slide hard and see if you can get it on the other side — it'll be easier to fix.'"

In the Instructional League that fall, Repko did just that, fracturing the other side rounding third base. The options were spinal fusion, which would hurt rotation and flexibility, or a return to the brade, with promise of better results. Opting for the brace, Repko healed well, and he has learned to manage a resulting condition known as spondylothesis.

"The vertebrae will slip forward and the back will go into spasm, because there is more flexibility in there," Repko said. "I can't lie on my stomach and I don't slide head first much anymore, but I've only had two or three spasms the last three years." …
The guy didn't have what it took to stick in the majors for the Dodgers, but he truly battled. Today, more than 10 years after the Dodgers drafted him, he heads off on waivers.
* * *