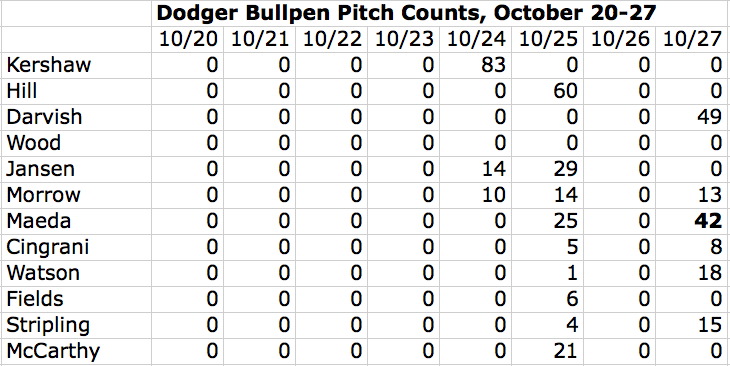 See the bullpen usage chart above? There is one number in bold. That — the 42 pitches thrown by Kenta Maeda in emergency relief of Yu Darvish during the 5-3, Game 3 loss to Houston, represents the only pitch count that any Dodger reliever has had in the World Series preventing him from pitching in the next game.
The only one. It's not irrelevant — Maeda has been phenomenal in the playoffs, pitching exactly nine innings and allowing no runs, two singles and a walk with nine strikeouts. Nevertheless, Maeda being extended to 2 2/3 innings Friday represents literally the only moment any of the 12 Dodger pitchers has been asked to go beyond his assigned role.
Kenley Jansen? No. The Dodgers spent the entire season preparing him for longer outings. Throwing 43 pitches in two days after being rested for 120 hours is not overwork. For that matter, the game-tying home run he allowed in the ninth inning of Game 2 came 16 pitches into his outing — there is no way to argue workload was the cause.
The Dodger bullpen is not overworked. It had four days off entering the World Series, a fact everyone talked about before Game 1 but seemed to forget less than 48 hours later. The bullpen wasn't overworked going into Game 3, even with Rich Hill being pulled after four innings, and with one exception, it isn't overworked now. If anything, one could argue that the foibles of Ross Stripling, Josh Fields and Brandon McCarthy are the result of underwork. I'm not making that argument, but I'll listen to it.
Heading into Game 4, the Dodger bullpen is overworked only in the sense that any bullpen would be overworked following a disaster start by an otherwise talented pitcher. And frankly, the fact that only one pitcher is shelved for tonight's Game 4 is a positive, not a negative, especially when mitigated by Jansen backing into an extra day of rest.
No doubt, there will be some pitchers unavailable for Game 5, but that is always a likelihood when you play three games in a row. Again, Game 2 will have had nothing to do with that. Maeda and Morrow were destined to pitch in Game 2, no matter the inning. And Maeda was used in a situation designed to maximize his effectiveness and efficiency.
There was no domino effect to the workload of the pitching staff from Rich Hill's early exit in Game 2. None. Every pitcher was primed for Game 3. If Dave Roberts and Rick Honeycutt made any mistake managing the staff, the biggest one would be not recognizing sooner that Darvish was hopeless in Game 3, not taking the same strategy that brought Maeda into Game 2 for Hill and employing it as soon as the Astro lineup turned over, and George Springer came up with two runners on and the Dodgers already trailing, 3-0.
But even then, it ain't easy to bail out on a starting pitcher after nine batters, and perhaps more importantly, Maeda doesn't warm up with the snap of your fingers.
I don't really want to relitigate Game 2, but since many continue to claim the pitching management in that game was as ill-fated as The Secret Diary of Desmond Pfeiffer, let me put down for the record that it's aggressive use of the bullpen that got the Dodgers this far, and any situation where the game is handed to Brandon Morrow and Jansen with a 3-1 lead and no more than nine outs to go is a great one for the Los Angeles Dodgers.
That there was one baserunner when Morrow entered the game is a factor, but one that also serves to make the case of why Roberts pulled Hill in the first place. So many people are angry as if Hill was throwing a perfect game, as he has been wont to do. He wasn't. Yes, he struck out seven, but he also allowed six baserunners (one on an intentional walk) in four innings. He was victimized by a poor fielding play by Chase Utley, but a pitcher who is "dealing" gets around that. Instead, Hill came within Chris Taylor's hat brim of being down by at least two or quite possibly three runs before getting his seventh out of the game.
Sure, Hill might have pitched a perfect fifth inning, and in my heart I would have liked to have seen that. But if we're going to bet on "might have," I'll bet on Jansen shutting down the bottom of the Astros lineup in his second inning of the night over Hill shutting down the top of the Astros lineup in his fifth. Anyone who is upset that Morrow and Jansen weren't brought in to start clean innings is on thin ice arguing that Roberts should have waited until Hill was in trouble before brining in Maeda.
More of a concern than the Dodger pitching staff is the offense, which hasn't been entirely absent — no fewer than three runs in any game, with clutch hitting in Game 1, comeback city in Game 2, the tying run at the plate in Game 3 — but certainly has its big share of ill-timed individual slumps and a .243 on-base percentage in the three games. But this is not a fatal condition, either.
The Dodgers have lost two games they could have won. People are anxious. It was for this very plausible moment that I wrote this paragraph Monday.
There will be moments where things go wrong, maybe too many of them at once, and the reflex will be to assume that your team screwed up — made the wrong decision, swung at the wrong pitch. Sometimes, yeah, it will be on us — who among us hasn't scolded a child (or a parent) for their numbskull transgressions? One piece of advice: It will help you to remember that the other team is fantastic, genuinely fantastic, earning every bit of its place in this World Series, more likely than not wreaking the havoc, rather than rolling head-first past it.
In the eighth inning of Game 2, things could hardly have looked more dire for Houston. Baseball has a way of flipping the table.