Month: October 2010
(Page 1 of 4)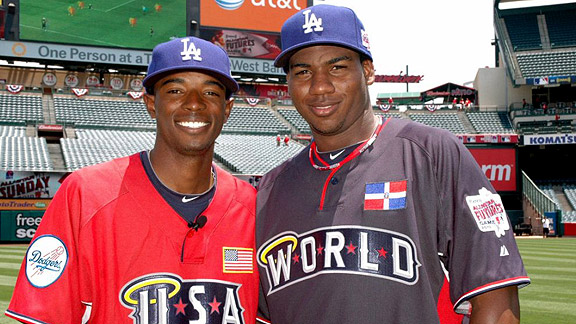 Ben PlattDee Gordon with fellow Dodger minor leaguer Pedro Baez at this summer's Futures Game.
Dee Gordon might make it to Los Angeles someday, but we're going to have to get him out of Puerto Rico first.
Gordon was late for my phone interview with him Friday night – and greatly apologetic – but he had good reason. The Dodger minor-league shortstop, and by some accounts the top prospect in the organization, was busy going 4 for 5 in Gigantes de Carolina's 11-10 marathon victory over Leones de Ponce in the Liga de Beisbol Profesional de Puerto Rico – a night that raised his Winter League batting average to .654, thanks to a sizzling 17-for-26 performance.
Gordon, 22, has eight hits in his past nine at-bats, 11 in his past 13 and six consecutive multihit games overall, so it's safe to say he's finding life in the territory to be pleasant. It's the first time in his life that he's been out of the continental U.S.
"I love it. I'm with some great teammates that are taking very good care of me," Gordon said, citing Antoino Alfonseca and Valerio de los Santos (both 38) in particular. "They're making my time here great. … They making everything easy, showing me the right thing to do, looking after me. It hasn't been really difficult at all, because these two guys have helped so much."
Gordon, of course, isn't there for the sightseeing. Rated the No. 1 prospect in the Dodgers' farm system by such sources as Baseball America and Baseball Prospectus last winter, and said to have Gold Glove potential by Keith Law of ESPN.com, Gordon was given a full season in Double-A with Chattanooga in 2010. In some ways it was a success – batting .277 in a Southern League known for its pitching, while leading the league in at-bats and steals, but he still showed the rough edges to his still-developing game. For comparison, he had almost as many errors (37) as walks (40).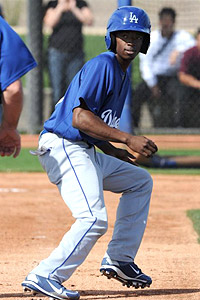 Juan Ocampo/Los Angeles DodgersGordon has stolen 144 bases in 194 attempts in the minors (74.2 percent).
Not surprisingly, Gordon said that his on-base percentage – "trying to walk a bit more" – and his defense were among the principal areas he is focusing on improving in Puerto Rico, along with his "mental maturity." Dodgers minor league hitting instructor Gene Clines has been working with Gordon on working the count, and though Gordon has walked only once in Puerto Rico, he said the lessons are taking hold.
"I'm definitely seeing way more pitches than I ever seen in my life," said Gordon, whom the Dodgers took in the fourth round of the 2008 draft. "I've been working on that since the last bit of the AA year. That's something I've been working really hard. … As a leadoff guy, you've got to (be able to) hit with two strikes, just not panic.
"I would hack at the first thing I saw and get myself out. I'm actually giving myself a better chance to hit. I may not be walking as much, but I'm actually seeing pitches that I can hit and drive."
On defense, Gordon partly blamed a lack of concentration for his high error totals.
"Sometimes I feel if I get lackadaisical, sometimes that does (affect the defense)," Gordon said, "but I'm getting better in that. Not taking any pitches off, just locked in and ready to play.
"You should be focused every play of every game. … If your mind ain't right, you won't be able to catch the ball anyway."
Though Gordon said he sometimes got down on himself in 2010 because he has high expectations, he subscribes to the belief that you need those struggles to learn the game.
"I still may swing at a bad pitch, still might make a bad decision on defense," he said. "That all comes with learning. If you don't mess up, you don't learn."
Gordon, who many are hoping also adds some mass to a slight frame (officially listed at 5-foot-11, 150 pounds), should likely begin 2011 with Triple-A Albuquerque, which happens to have a vacancy for a starting shortstop. There, he will probably play alongside second baseman Ivan De Jesus, first baseman/outfielder Jerry Sands and Gordon's close friend, outfielder Trayvon Robinson. That would put Gordon within striking distance of the majors – and with injury-prone Dodger shortstop Rafael Furcal's contract expiring at the end of 2011, the timing couldn't be better – but Gordon said he can't taste the show yet.
"There's a lot of work (to do)," he said. "I can't taste anything – I'm not there. There's nothing I can taste. I haven't played a day or an out or an inning in the majors. I'm a minor-league player, working to become a major-leaguer. That's all I can do, and that's all I can be."
* * *
Gordon has a Twitter account where he aims to interact with fans when he can: @deegordon.
* * *