Month: July 2013
(Page 1 of 3)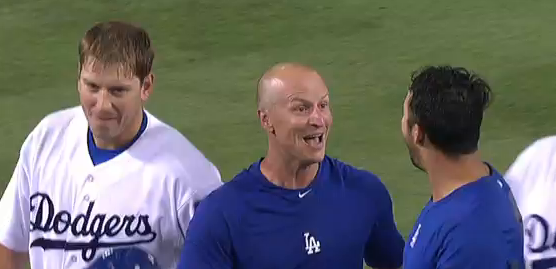 "Just do it. Just do it here. Don't want to wait. Don't want to see Rivera. Can we just get it here?"
Amazingly, yes.
Somehow, the Dodgers turned the combo of Andre Ethier on first base and Mark Ellis at the plate with two out in the bottom of the ninth into yet another victory, 3-2 over the New York Yankees.
Ethier, a 24-for-47 basestealer in his career, pilfered second base on an 0-1 ball to Ellis. Then, with a full count, Ellis looped a Shawn Kelley offering into short left field, just in the right spot to score Ethier with the winning run.
With that, the Dodgers were 10-1 after the All-Star break for the first time in their history and 27-6 over a 33-game stretch for the first time in 60 years. They lead Arizona by 3 1/2 games in the National League West and trail Pittsburgh by 6 1/2 games for the best record in the NL.
Kenley Jansen pitched a perfect, 15-pitch ninth against Robinson Cano, Alfonso Soriano and Lyle Overbay to qualify for the win. Jansen has pitched six times in the past eight games, but fortunately, hasn't used more than 15 pitches in a game since July 16.
Since May 25, Jansen has pitched 32 innings with 43 strikeouts, 26 baserunners, a 1.13 ERA, 14.3 strikeouts per walk and five of six inherited runners stranded.
Andy Petttitte and Zack Greinke pitched to a draw, each allowing two runs over seven innings with no walks. Pettitte allowed eight hits and struck out three, while Greinke allowed five hits and struck out seven.
Pettitte twice fell behind, in the first inning on a booming double off the top of the center-field wall by Yasiel Puig, followed by a Hanley Ramirez RBI single, then again in the second inning when Juan Uribe hit a 441-foot home run to the Loge Level in left field, the 22nd Loge blast in Dodger Stadium history and the ninth 0-2 homer ever off Pettitte in his long career.
Each time, the Yankees came back. Greinke gave up a homer to Overbay in the top of the second and threw a costly wild pitch that contributed to a run in the fourth.
That was it until the ninth, when the Dodgers did it again. They did it again. They did it again.