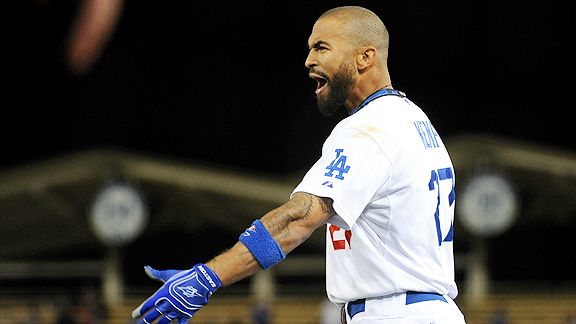 Harry How/Getty ImagesMatt Kemp couldn't believe he was called out at first base in the sixth inning.
Andre Ethier extended his hitting streak to 26 games tonight, but it was a rare defensive show on his part that almost saved the Dodgers from what eventually became a 5-2 loss to San Diego.
With the Dodgers leading 1-0 in the top of the fifth inning, Ethier made a diving catch in right field with the bases loaded and one out. He then got to his feet and fired home, just in time to get Cameron Maybin (who had thought Ethier wouldn't catch the ball and had to go back to third base to tag up). But Dodger catcher Rod Barajas couldn't hold onto the throw, and Maybin scored.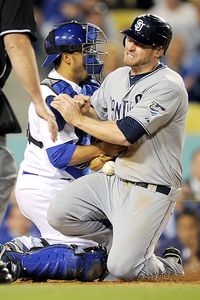 Mark J. Terrill/APDioner Navarro couldn't convince the ball to stay in his glove to get Chase Headley.
The Dodgers later came back from a 2-1 deficit to tie on Tony Gwynn Jr.'s pinch-hit RBI single in the bottom of the seventh, but more misfortune near the plate in the top of the eighth helped the Padres put across three runs. With the bases loaded and two out, Matt Guerrier bounced a curveball that backup catcher Dioner Navarro tried but failed to backhand, allowing the go-ahead run to score. Soon after, an error by Navarro on a throw home by Jerry Sands enabled the Padres fifth run to score.
Say what you will about Jonathan Broxton, but the Dodger relief pitching continues to be shaky almost entirely across the board. After Vicente Padilla walked two batters and barely escaped Friday's eighth inning, Guerrier had his second-straight Saturday eighth-inning loss, allowing the three runs on three hits (interspersed with two intentional walks).
Of course, the Dodger offense didn't offer much, outside of Ethier, who went 2 for 4 to finish April with 40 hits, tying a Dodger record with Rafael Furcal (2008) and Mike Piazza (1996). Matt Kemp had one hit and was robbed of a second on a questionable call at first.
Outside of the fifth inning, Hiroki Kuroda was just about in seventh heaven, allowing seven baserunners in seven innings with seven strikeouts.
Before we go, this from the Dodgers:
Tomorrow morning Dodger players will sign autographs in exchange for a $5.00 suggested donation to help raise funds and awareness for the Southern United States tornado relief efforts. The signing will take place at Viva Los Dodgers between 11:30 a.m.-12:15 p.m. in Lot 6. The club will hosting another signing on Tuesday at Autograph Alley and will also be accepting donations or school supplies at donation booths during the upcoming series against Chicago. Those expected to participate in the signing sessions tomorrow include Manager Don Mattingly and Pitching Coach Rick Honeycutt and players Clayton Kershaw, Jonathan Broxton, Chad Billingsley, Matt Guerrier, Lance Cormier, Marcus Thames, Tony Gwynn Jr. and Rod Barajas.