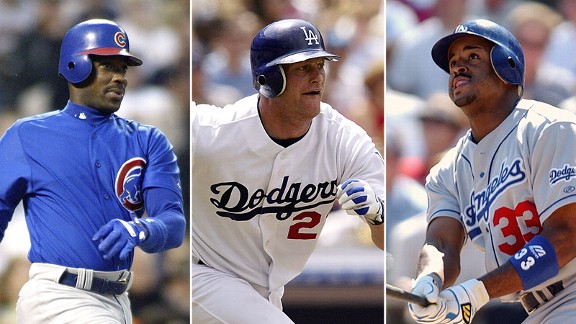 Getty ImagesOfficial Hall of Fame candidates Fred McGriff, Jeromy Burnitz and Brian Jordan were 2003 Dodger teammates, though the trio never appeared the same game together for Los Angeles.
Here is the 2012 Hall of Fame ballot mailed this week to the approximately 600 voting members of the Baseball Writers' Association of America. Former Dodgers (plus a manager) are in bold:
Jeff Bagwell, Jeromy Burnitz, Vinny Castilla, Juan Gonzalez, Brian Jordan, Barry Larkin, Javy Lopez, Edgar Martinez, Don Mattingly, Fred McGriff, Mark McGwire, Jack Morris, Bill Mueller, Terry Mulholland, Dale Murphy, Phil Nevin, Rafael Palmeiro, Brad Radke, Tim Raines, Tim Salmon, Ruben Sierra, Lee Smith, Alan Trammell, Larry Walker, Bernie Williams, Tony Womack, Eric Young.
Go Raines!