No. 10,000! pic.twitter.com/Hut8ak1Uj4

— Los Angeles Dodgers (@Dodgers) May 1, 2014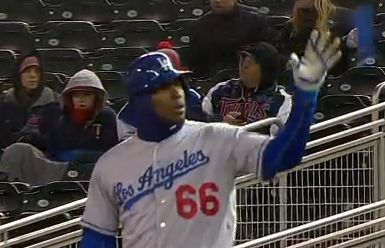 By Jon Weisman
So yeah, Zack Greinke is amazing and yeah, Adrian Gonzalez keeps on rockin' and yeah, Dee Gordon is greased lightnin'.
So who is quietly – that's right, quietly, off the radar, with little fanfare or media attention – one of the Dodgers' top contributors in 2014.
Some guy named Yasiel Puig.
According to Fangraphs, Puig was the 2014 Dodgers' fourth most valuable position player entering play tonight, trailing Gordon, Juan Uribe and Gonzalez. He was also neck-and-neck-and-neck with Ryan Braun and Jason Heyward for third place among National League right fielders.
And that was before Puig went 2 for 4 in the Dodgers' 6-4 victory over Minnesota, raising his on-base percentage to .364 and slugging percentage to .471.
But you wouldn't know it, given that almost all the discussion about Puig this year has been about his shortcomings and other off-the-field stories.
Admittedly, with three home runs in 27 games, it doesn't really feel like Puig has unleashed the power the way he did upon his arrival in 2013. On the other hand, we keep hearing about pitchers are adjusting to Puig, and he hasn't exactly fallen apart. Far from it.
Tonight was Puig's 190th game on American soil, including Double-A, Single-A and the Dodgers' Arizona Rookie League team. That's it. It's still reasonable to say the guy is just getting started, and his career Major League OPS remains above .900.
With Clayton Kershaw passing his latest test, Greinke extending his authoritative pitching with a six-inning, one-run (unearned) outing, the offense amassing 16 baserunners and the franchise recording its 10,000th NL victory, it was a good night. Even if the bottom of the ninth was an adventure.