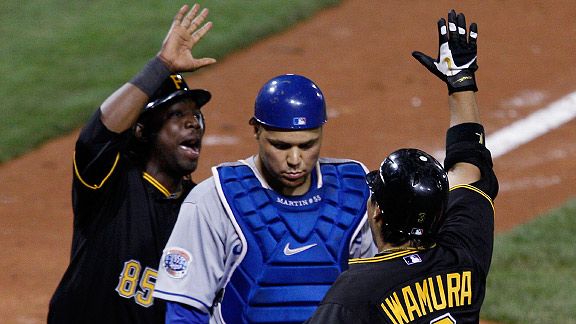 Gene J. Puskar/AP
Russell Martin is the glum in an emotional contrast sandwich.
I mean, my grandmother could have walked the pitcher twice.
I promised myself at the birthday dinner tonight that I wasn't going to let anything Dodger-related interfere with my enjoyment of the night, but that came after Clayton Kershaw (who had already walked the leadoff man before giving up a three-run home run to Pirates outfielder Wilver Jones) free-passed Pittsburgh pitcher Russ Ohlendorf in two consecutive at-bats.
Just to give you some insight into my offline personality, I really let Kershaw have it when Ball 8 came to Ohlendorf as I pulled into my driveway to grab my family for dinner. I spare you folks the rage – just not my steering wheel, which bore the brunt of my shouts.
It was the 33rd time in 53 seasons since the Dodgers moved to Los Angeles that an opposing pitcher drew at least two walks. Kershaw was the culprit the last time it happened – July 1 against Jason Hammel of Colorado (in a 1-0 Dodger victory).
Hey, it's an old gripe for me. My third post ever on Dodger Thoughts was frustration about a ridiculous walk. But throwing strikes just isn't automatic yet for Kershaw. We'll keep waiting, but all that talk about Kershaw being the completely together pitcher and Chad Billingsley being the mental dyspeptic seems a bit silly now, at least until Thursday morning.
Conversely, Joe Torre's decision to leave his best reliever in the bullpen during a game that was tied from the fifth until the 10th inning – that's also an old gripe for me, for which there are no excuses unless the guy is physically unavailable  – but it came after Grandma Sue's dinner started, so I can't comment about it. And I didn't even see Blake DeWitt's error in the 10th inning, which came around the time we were blowing out the candles on the 100 cake.
In fact, there was lots about this game that was just crappy, but I saw Russell Martin's homer and I heard my grandmother say she was excited about her birthday, so that wins.  Some things are just more important. (New dad Ramon Troncoso understands. "I want to be with her every second," Troncoso told Dylan Hernandez of the Times.)
So for now, you just get the photo of Martin above. And if you want more details about tonight's game, Tony Jackson of ESPNLosAngeles.com has lots of them – really a thorough report. But I promise that if the Dodgers go down Thursday, I'll hit you with something gripy. Not doomsdayish, but certainly enough to commemorate an opening three-game sweep by the Pirates.
Good thoughts, everyone …
* * *
Forbes values the Dodgers at $727 million, the fourth-highest figure in baseball – details in this story from The Associated Press.
Manny Ramirez told T.J. Simers of the Times that he likes Jamie McCourt more than Frank.
Update: Man, I really, really zoned out while reading Simers late Thursday. Sheesh. Anyway, disregard the sentence above.