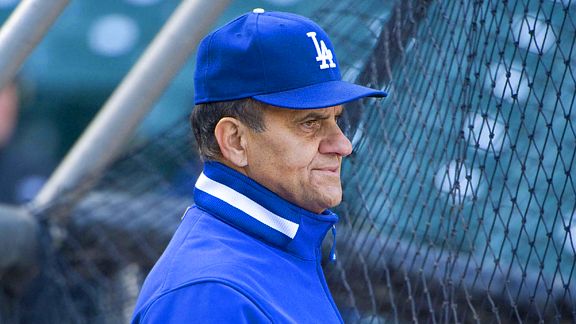 Kyle Terada/US Presswire
Joe Torre
As much as I might procrastinate, I never turn in work late. But when it comes to difficult decisions, sometimes I'll take those past the expiration date — in other words, by the time I make the decision, it won't matter what I've decided.
Simple example: There's a sale on something I might want to buy, but by the time I decide to go for it, the sale is over. Or there's a story I might want to write, but by the time I commit to requesting interviews, someone else has gotten there first.
I got to wondering how much major-league managers (or for that matter, general managers) share this trait. We talk a lot about in-game strategy when it comes to managing; I've still got a diatribe at the ready about Joe Torre's use of Jonathan Broxton in Pittsburgh this week. But today I'm thinking out loud about how many wins might come from decisiveness, how many losses might result from the lack of it.
Should the Dodgers be more decisive by this point about whether James McDonald is a starting pitcher or a relief pitcher? Should they have been less decisive a few years back about turning Jonathan Broxton into a reliever instead of a starter?
If you're unsure about a roster decision, do you just put it off? To paraphrase Branch Rickey, is it better to get rid of a player a month too soon than a month too late?
Blake DeWitt (a subject of discussion in this morning's comments) –went back-and-forth between the majors and minors last year, is it time to commit to him staying in the majors in 2010?
I'm not attempting to answer these questions today. Perhaps some of these kinds of decisions should be made sooner, others later. It's obviously important to make the right decision, but how important is when you make that decision? Is timing an underrated skill in management?
As a postscript, Roberto Baly of Vin Scully Is My Homeboy points to one decision Torre has been putting off — how long to stay with the Dodgers — and wonders if Torre has any inclination to flee the McCourt mess for the Mets mess.
* * *
Eri Yoshida, the 18-year-old female knuckleballer from Japan, is coming to California to pitch:
(Yoshida) signed with the Chico Outlaws of the Golden Baseball League. The team said she will report to spring training next month. …

Yoshida will be the first female to pitch for a pro team in the United States since Ila Borders retired more than 10 years ago, the team said. …

"We are really looking forward to having Eri as a member of the Chico Outlaws this season," team president Mike Marshall said. …
Yes, that's former Dodger outfielder Mike Marshall speaking.
The 5-foot, 114-pound Yoshida became Japan's first female pro baseball player last year when she pitched for the Kobe Cruise 9 in the Kansai Independent League.

She was 0-2 in 11 appearances with a 4.03 ERA, giving up seven runs in 10 2-3 innings. …

The Outlaws open on the road on May 21 in Tijuana and return for their home opener on May 26th.
* * *
Josh Wilker of Cardboard Gods can be heard in an NPR interview Saturday.