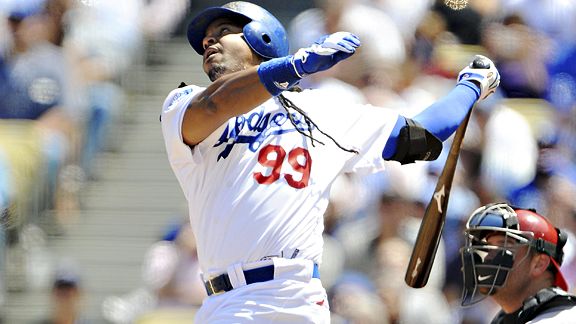 Manny Ramirez hit his first homer of 2010.
I didn't have the league bylaws with me to see when the pitchers' mercy rule would kick in and they would bring out the tees, but I know the Dodger and Diamondback parents must have felt it was close.
There was an offensive display at Dodger Stadium Opening Day — particularly offensive if you were a fan of good pitching. Arizona and Los Angeles combined to walk 14 and needed 362 pitches to get through nine innings, but ultimately it was the Dodgers who enjoyed their postgame snacks and juiceboxes most with a 9-5 victory.
Manny Ramirez added to the pregame fireworks with his first homer of 2010 to give the Dodgers a 2-1 lead in the fourth inning, and Casey Blake, Andre Ethier (back from his injury) and Matt Kemp followed with more round-trippers in a game that the Dodgers seemed to own basically the entire way — only their pitchers seemed practically determined to lease it back to the Diamondbacks.
Clayton Kershaw threw only four pitches out of the strike zone in the first inning, but once again increasingly battled his control as the game progressed and couldn't make it through the sixth inning despite a comfortable lead. He walked No. 8 hitter Chris Snyder and Arizona pitcher Ian Kennedy to lead off the top of the fifth and later hit a batter before escaping a bases-loaded jam. Then in the sixth, he again walked the first two batters and was clearly laboring to find himself. Kershaw left after 5 1/3 innings with seven strikeouts and only two earned runs, but five walks and another four days to come of pitchers' soul-searching.
But Kennedy, whom Arizona is counting on to hold down a spot in its starting rotation, was certainly little better after a 1-2-3 first inning for the Diamondbacks, allowing six runs and nine baserunners while using 100 pitches to get 13 outs.
No reliever really impressed for either team until the ninth, when Jonathan Broxton — who received a warm reception from a good-mooded crowd that held nothing from the end of 2009 against him — struck out two in a perfect final frame. Dodger fans worried about rising ticket prices at least got 222 minutes of game action today for their trouble, and a happy ending as they hit the postgame traffic.
The Dodger offense now has 45 runs in seven games (6.4 per game), though it is a slow-starting group. Russell Martin's sacrifice fly provided the Dodgers' first second-inning run of the season, and all but eight runs in 2010 have been scored from the fourth inning on. Kemp and Ethier each went 2 for 5, James Loney had two doubles and Blake DeWitt walked three times (once with the bases loaded) to give him 11 on the season against one strikeout. Yes, folks, your National League 2010 walk leader is none other than Mr. DeWitt.
As indicated above with Broxton, the atmosphere at Opening Day was positive, though perhaps not as euphoric as a year ago when Ramirez was making grand entrances from the left-field bleachers and Vin Scully was saying "It's time for Dodger baseball" instead of Larry King. In particular, the staff working the scoreboards seemed a little disengaged from the festivities, rarely showing fans in the stands and being sluggish with stat updates. In addition, they've made a peculiar choice to air random trivia (not baseball trivia, but things like the temperature of lightning) in paid spots for Mega Millions, and even the bloopers segment had nothing to do with baseball.  They seemed to be marching to their own, odd drummer.
As for me, I'll be marching home with a Russell Martin foul ball that I caught after it caromed off the hands of a fan behind me. It's the fifth of my career – one for my fortunately not sore thumb.