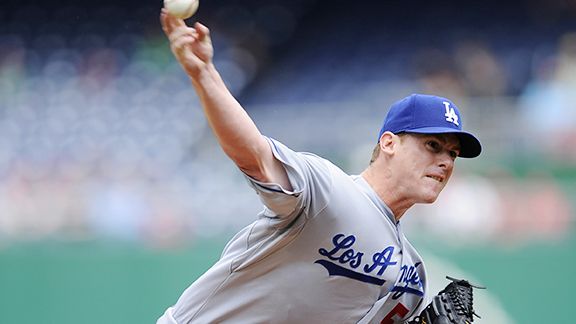 Nick Wass/AP
Chad Billingsley averaged 14.3 pitches per inning today.
If there is a feel-good loss, the Dodgers might have felt one today.
Despite being shutout for the second time in eight games and again falling two games below .500, the Dodgers and Chad Billingsley might be moping less than normal after the righthander delivered his best start of the year Sunday, allowing one run over six innings in the Dodgers' 1-0 loss to Washington.
Billingsley's only unintentional walk of the day contributed to the game's only run, but otherwise he was on top of his game. He used an efficient 86 pitches over six innings, allowing four hits and striking out five. He averaged five pitches outside the strike zone per inning, not counting a sixth-inning intentional walk following a two-out, Cristian Guzman double that was the result of a miscommunication between Matt Kemp and Garret Anderson. (Kemp called for the ball, but Anderson didn't back off Kemp's path.)
With runners on first and second, Billingsley went 2-2 to Josh Willingham before getting him to ground out and end his cleanest outing since September 23 at this same ballpark, when he pitched no-hit ball for 5 2/3 innings before giving up two walks and a three-run homer to Ryan Zimmerman.
Had the Dodgers been leading – which would have been a possibility had they converted three consecutive one-out singles in the first inning into a run – Billingsley would certainly have pitched in a seventh inning for the first time since July 5. But down by a run with a runner on first, Joe Torre pulled Billingsley for pinch-hitter Andre Ethier. Ethier grounded into a double play.
After Ramon Troncoso retired six of seven players he faced in the seventh and eighth innings, the Dodgers had one final chance when James Loney (2 for 4) led off the ninth with an opposite-field double. But pinch-runner Jamey Carroll couldn't advance on Casey Blake's, I don't know, confusing one-hopper to Guzman. Justin Maxwell then made a diving catch on Ronnie Belliard's blooper to right, and Anderson wrapped up a miserable, three-strikeout day with an easy pop to center.
It's just one game in the season for Billingsley, but it was a promising one. The only time things really went wrong for him was when the leadoff single by Nyler Morgan was followed by an ugly four-pitch walk to Adam Kennedy. But between then and two outs in the sixth, Billingsley only one three-ball count and scattered two singles. Though no one likes a 1-0 loss, the Dodgers might hate this one a little less.