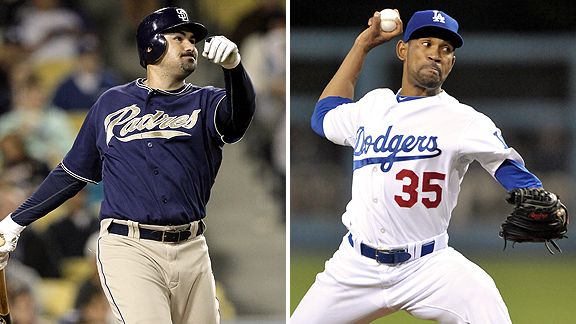 AP/US Presswire
Adrian Gonzalez raised his career numbers against Ramon Ortiz to 7 for 13 with four walks and two homers – and finished the night with six RBI.
Joe Torre gave Ramon Ortiz another start tonight for the Dodgers, despite Ortiz pitching rather poorly in San Diego last week – not that I think anyone was all that surprised by Torre's decision. Allowing three runs in four innings in pitching-friendly San Diego was nothing to be proud of, but Torre seemed to feel not only that it was a reasonable first effort, but that it outshone the four innings of one-run ball that Carlos Monasterios gave the Dodgers against Pittsburgh two weeks earlier.
This isn't anything to start lighting effigies over, but the lack of a second chance for Monasterios is a bit vexing in light of the unexpected success that John Ely has had. While there's no certainty that Ely can maintain his outstanding performance to date, no one wants to jump off that train just yet. Why Torre was so quick to get off Monasterios' choo-choo to get on Ortiz's doesn't make a whole lot of sense.
Remember, though, that even Ely's second start was delayed so that Torre could give Charlie Haeger one more opportunity – one that ended up rather disastrous for the knuckleballer. And so maybe, Torre's rope for Ortiz will be cut now that the 37-year-old righty has followed up that last start against San Diego with a stinker in tonight's 10-5 defeat: 3 1/3 innings, five runs, six hits, three walks, one strikeout. Ortiz now has a 6.30 ERA (thanks in small part to Ramon Troncoso, who allowed an inherited run to score and gave up two homers in a five-run fourth). Monasterios, after throwing three shutout innings tonight, is at 1.90.
James McDonald or Scott Elbert should be grabbing that No. 5 spot in the rotation, but they haven't. I might just throw McDonald out there to see what happens, but in their absence, it's time for Monasterios to get another shot – not with the expectation that he'll give you six innings, but that he'll keep the score more manageable in the early going than Ortiz would. With the rest of the Dodger starting pitching having stabilized, the Dodgers can afford this. Whether the Dodgers next use a fifth starter on May 25 (after an off day) or May 29 (the next time it's necessary), Ortiz is no longer the man to bridge the gap between now and Vicente Padilla's return.
All this being said, the Dodgers hung on for most of tonight's game despite allowing six RBI to Adrian Gonzalez and five times on base to Will Venable, and despite being down 8-3 after four innings (that took two hours to play). They threatened constantly, tallying 15 baserunners for the game, but simply couldn't get the big blow, and after George Sherrill allowed two more runs in the ninth, fell to defeat for the first time in 10 games. It cost the Dodgers a chance to move into first place in the National League West. On the other hand, maybe it moved them one step closer to figuring out the starting pitching they're supposed to have.
* * *
Manny Ramirez was a late scratch from tonight's starting lineup because of a left foot injury he suffered during pregame warmups, according to Tony Jackson of ESPNLosAngeles.com. Ramirez pinch-hit for the Dodgers in the fifth – no further details on the injury were immediately available.