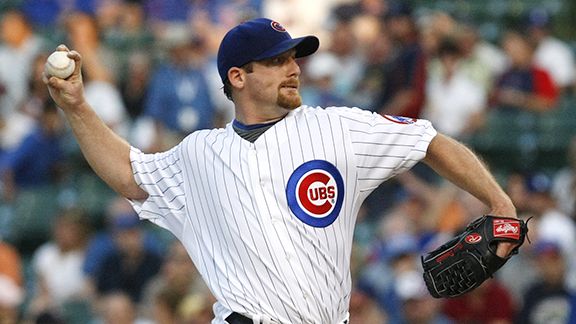 Charles Rex Arbogast/AP
In his past 15 innings against the Dodgers, Ryan Dempster has allowed four runners to reach second base and none to score.
Ryan Dempster would rather have the first game of the 2008 National League Division Series back, but he's doing well with consolation prizes.
Since giving up the NLDS-changing grand slam in October 2008, Dempster has pitched twice for the Cubs against the Dodgers – May 30 last year and tonight – and done nothing less than throw 15 consecutive scoreless innings against the Dodgers, who lost their second straight game after winning 12 of 13, 3-0.
Dempster went eight innings this time around, allowing three hits and walking one while striking out seven. Russell Martin (single), Manny Ramirez (single and walk) and Casey Blake (single) were the only baserunners for the Dodgers, whose final 16 hitters were retired by Dempster and Cubs closer Carlos Marmol.
Rafael Furcal had a miserable return from the disabled list, going 0 for 4 with two errors, each of which led to an unearned run. The first was a failed backhand pickup on a Ryan Theriot grounder leading off the bottom of the sixth, with Theriot coming around to score on a Derrek Lee single to break a scoreless duel between Dempster and Clayton Kershaw. Kershaw lowered his ERA for the season to 2.90 with six innings of four-hit, two-walk, four-strikeout ball, but was charged with the loss.
Furcal then threw in the dirt after fielding a Starlin Castro grounder starting the bottom of the eighth, and Lee (3 for 3 with a walk) homered off reliever Ramon Troncoso – who told Ken Gurnick of MLB.com hours before that he had figured out the flaw in his delivery that caused him to give up three other homers last week – to give the Cubs breathing room.
In his past four starts covering 28 1/3 innings, Kershaw's ERA is 0.64.
Update: Rafael Furcal wasn't the only one who goofed Tuesday. I managed to miss another start Ryan Dempster made against the Dodgers last year – August 23. Thanks to commenter DodgerKramer for alerting me. Dempster allowed no earned runs in seven innings that outing, meaning that his streak of innings without allowing an earned run against the Dodgers is actually 22.