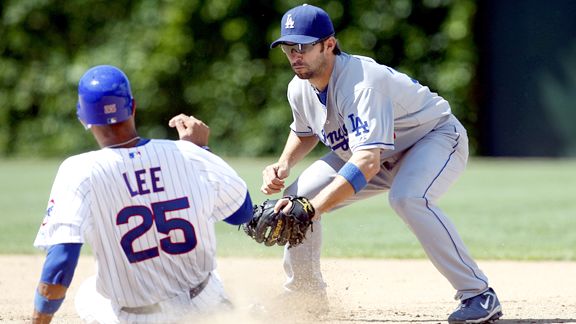 Jerry Lai/US Presswire
Blake DeWitt tags out Derrek Lee attempting to steal in the seventh inning today.
Today's story, as far as I'm concerned, is that the remarkable John Ely raised his game yet another level. Pitching in his hometown (albeit not on the South Side), Ely took a two-hit shutout into the eighth inning. That's the story.
That the Dodgers hadn't and ultimately wouldn't score any runs in support of Ely, that Ely ultimately allowed two more hits and a run, that the Dodgers lost, 1-0, those are indeed significant details, but I'll not let them divert me from the main story: John Ely keeps bringing it, and bringing it, and bringing it.
Ely's final totals: 7 1/3 innings, four hits, two walks, four strikeouts, 98 pitches, 19 first-pitch strikes to 27 batters. For the first 6 2/3 innings, Derrek Lee was the only Cub to reach base against him. Lee had two walks and a double, making him 7 for 9 with three walks against the Dodgers in the three-game series. But Lee never scored.
Instead, the real damage came in the eighth inning. Mike Fontenot hit a shot down the right-field line leading off the inning, a double (maybe a single) that outfielder Xavier Paul played into a triple. After Ely struck out Geovany Soto, Tyler Colvin hit a bounder past James Loney to score Fontenot.
Paul made an error on that play, but this loss can't be put on the defense. The hits were legitimate and together probably would have added up to a run, unless Paul made a great play to hold Fontenot at first and everything thereafter went the Dodgers way. Further, Paul, second baseman Blake DeWitt and left fielder Reed Johnson each made fine catches today — as did Ely himself, on a liner back at the mound. Russell Martin also threw out Lee attempting to steal in the seventh inning, a play that at the time might have seemed a game-saver, considering that Kosuke Fukudome singled one out later.
Rather, it was the Dodger offense that couldn't make hay against Ted Lilly, who combined with Sean Marshall and Carlos Marmol on the Cubs' second shutout in three days. Paul popped out with the bases loaded (on walks) to end the fifth inning — the only inning the Dodgers had a runner on third. And in the only other inning the Dodgers put a runner on second base, after Martin and Matt Kemp singled, Casey Blake (who, along with Martin, was the only Dodger to reach base twice) and James Loney could not drive them home.
In the ninth, DeWitt walked with one out, but Marmol struck out pinch-hitters Manny Ramirez and Garret Anderson to end the game.
All of these details mattered, all of these details add up to another tally in the loss column, one that puts the Dodgers further behind the persistently pesky Padres. But still, for me this game remains primarily about John Ely working his magic, yet again. He lowered his ERA to an even 3.00 — 13 runs in 39 innings — and gave the Dodgers even more hope about his future, even if today didn't bring much of a homecoming present.
Update: Want to know what the sixth-inning brouhaha was about? Rob Neyer of ESPN.com explains.
Update 2: MLB.com has video.