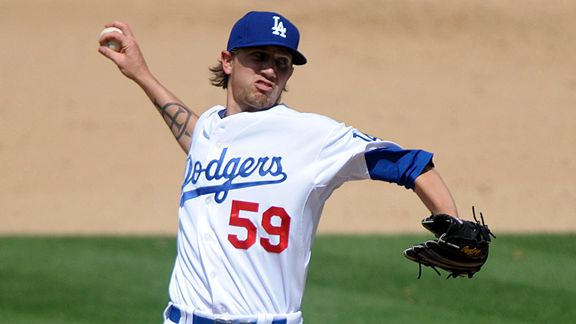 Kirby Lee/Image of Sport/US Presswire
Travis Schlichting allowed four baserunners in four unexpected but indispensable innings of relief today.
The pitch counts for the relievers in today's 14-inninger: Ramon Troncoso 11, Justin Miller 41, Jonathan Broxton 11, Ronald Belisario 10, Travis Schlichting 60 – none of whom pitched Tuesday except Belisario, who threw 11 pitches. That gives the Dodgers four relievers they can easily use Thursday against Atlanta in back of Hiroki Kuroda: Troncoso, Broxton, Hong-Chih Kuo and Jeff Weaver.
The Dodgers might make a move to add a reliever – that move would probably include optioning Schlichting to Albuquerque. If that happens, Schlichting can make the trip knowing that he made quite a positive impression on this organization, not to mention a lifetime memory for this converted infielder who has been plagued by back trouble in his career and was pitching for the Kansas City T-Bones of the independent Northern League inside of three years ago.
Schlichting is the 19th pitcher the Dodgers have used this season, and the 11th to get a victory.
Options for the Dodgers for Thursday don't include Charlie Haeger (turf toe), James McDonald (bad hamstring), Scott Elbert (not eligible for a recall yet – and the Dodgers probably don't want him right now) or Brent Leach (threw 70 pitches for Albuquerque today). Perhaps most likely would be the temporary return of Jon Link, who hasn't pitched since Sunday and has an ERA of 0.87 in his past six appearances (10 1/3 innings) with eight strikeouts.
"Kim [Ng] is out there waiting to talk to me," Joe Torre said about a potential roster move after today's game, reports Chris Volk of DodgerFan.net. "She's going to come in and ask me the same question. I haven't really digested this yet and I don't know where we would make room for that person, but we are going to be a bit short, so we'll have to see."
Torre added that he would have used Weaver after Schlichting, but beyond that, Reed Johnson might have been the next arm.
"I don't know," Torre told Volk. "I didn't poll anybody. Short of one of those things, I was hoping that if we weren't going to score, that it would be Garrett making the last out so at least the next inning I'd have Johnson leading off and I'd have nine guys. Pick one of those guys to pitch. But if I had to use him in the 14th inning, then I was going to have to probably use a pitcher to play a position and not pitch, which is something I've never had to do."
As for Carlos Monasterios, he is winning a convert in the manager's chair, and the plans to move him out of the rotation in favor of Haeger might indeed be shelved a little longer – skin permitting. Monasterios would have gone out for a sixth inning today but for a blister on his right middle finger, reports Tony Jackson of ESPNLosAngeles.com.