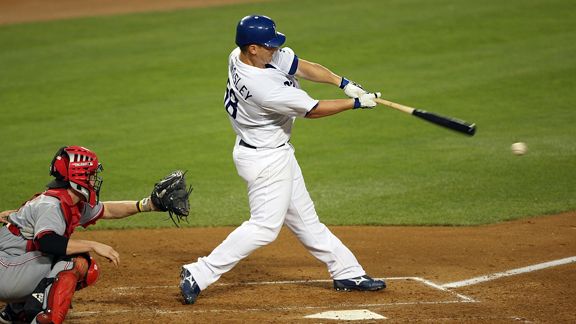 Paul Spinelli
With two hits, Chad Billingsley is the Dodgers' Babe Ruth this year. (This picture is from last year.)
Even by pitcher standards, Dodger pitchers are stinking it up at the plate this year.
They're the worst in the NL this season by almost every measure. Los Angeles pitchers have a .178 OPS at the plate, while their top NL West rival, San Diego, is best in the league at .502. (The Dodgers have an .086 batting average on balls in play, while the Padres are at .310.)
Through 54 games, they have a grand total of five hits — fewer hits than walks, in fact. That's the one bright spot for Dodger pitchers — they're tied for the league league in free passes received with eight. Last season, Dodger pitchers had 40 hits and 14 walks.
Chad Billingsley — who was the Dodgers' best-hitting pitcher last year, not Randy Wolf (though Wolf had a noteworthy 11 RBI) — leads the Dodgers with two hits. Clayton Kershaw (1 for 17), Carlos Monasterios (1 for 5) and Jeff Weaver (1 for 1) have the others. Hiroki Kuroda and John Ely are a combined 0 for 34.
Dodger pitchers have no extra-base hits this year and one RBI – a sacrifice fly by the 0-for-6 Charlie Haeger. They do lead the NL in sacrifice hits.
Forget blaming Manny Ramirez, Russell Martin or anyone else for their slumps. It's time for the Dodger arms to get in the swing!
* * *
Casey Blake went for an MRI, Joe Torre told reporters today.
Here's one more take on the unperfect game and instant replay — I know we've overdosed on this stuff, but it's from Josh Wilker so I can't not push it.