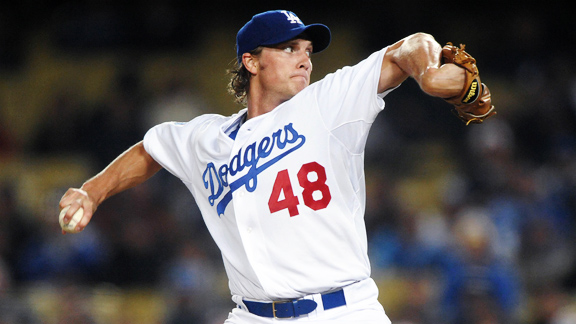 Kirby Lee/Image of Sport/US Presswire
In seven starts, John Ely has walked eight batters, throwing nearly two-thirds of his pitches for strikes.
In Hollywood, they call it a "meet cute." Like when Harry met Sally. The circumstances are more oddball than auspicious. A and B are thrown together, often in chaos, might not even like each other at first.
But from such quirky beginnings, love can bloom.
The Los Angeles Dodgers and John Ely met cute April 28, sharing a mostly unfulfilling cab ride in New York. Thanks to injuries and inadequacies, the Dodgers were stuck with this nobody, this fix-up date dressed in a cheap fastball – tell us someone has a "good changeup," and you might as well be trying to sell us on a "good personality" – instead of someone more desirable, whether that was Vicente Padilla, Randy Wolf, Cliff Lee, Roy Halladay or Sandy Koufax. The Dodgers deserved better, right?
As for Ely, he mostly was happy to be there, but this wasn't exactly the team of his dreams, the team he'd written love poems to in his diary. That dream team was where he grew up, Chicago's South Side, and in his late-night fantasies would have had a better record than the 8-12 Dodgers, losers of three in a row and practically the worst squad in the National League.
Expectations were low on that first date, and initially they weren't exceeded. In just the second inning, Ely came undone, allowing four runs on a combination of poor pitching and a fielding mistake that made dinner conversation awkward to say the least. After another run in the third … well, not that Ely wasn't a nice guy or good to his mother, not that the Dodgers didn't pick up the check, but both were eying the door.
And then, as they lingered, a spark.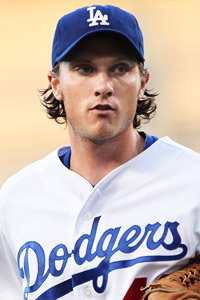 Adam Davis/Icon SMI
He's Elyful, he's elicious, he's elovely.
Just about the time Ely should have been heading for a cold shower, he retired 10 of the last 11 he faced in New York. The Dodgers and Ely didn't see each other again for another week, but they did arrange for a second date. And on that May 6 evening, with the 11-16 Dodgers still down in the dumps (after hard losses incurred by Clayton Kershaw and Chad Billingsley) and starting to feel pretty sorry for themselves, this unassuming specimen stepped up and kept them from drowning their sorrows in ice cream or bourbon. Ely threw 6 2/3 innings before finally allowing a run, retiring 16 batters in a row at one point and overall giving up four hits, striking out seven and walking none. For a second date, it sure was better than a hole in the head.
Even so, the Dodgers continued to play hard to get. They optioned Ely back to Albuquerque. Oh, maybe they planned on a third date all along – this other fella they had been dallying with, Charlie Haeger, was looking so lame that no one objected when he was placed on the disabled list – but it wasn't like the Dodgers and Ely were quite going steady yet.
Then came May 11, the third date. And you know what they say about third dates.
Once again, Ely made it into the seventh inning before allowing a run. Once again, he walked no one. And this time, there was no mistaking it – the Dodgers, whose 13-3 victory over Arizona gave them eight wins in their most recent 11 games, and John Ely, who had allowed no walks or extra-base hits to has most recent 48 batters – were definitely clicking. The Dodgers stopped being aloof – they wanted to keep seeing this guy with shades of Matthew McConaughey's looks and Mark Fidrych's personality, this guy who mesmerizes batters with his ability to mix speeds.
And so they entered that blissful time of the courtship where every night just seems more and more magical. May 17: Ely extends his streak without allowing a walk or extra-base hit to 84 batters. May 22: Ely shows his human side by allowing two runs on two doubles, a single and a walk in the first inning against Detroit, but then just becomes even more alluring by shutting the Tigers down for the next five innings. May 27: A two-hit shutout through seven innings before allowing a single run in the eighth. June 1: C'mon, now. A no-hitter into the fifth inning, another two-hit shutout through seven.
Is this heaven? I'll tell you one thing – it ain't Iowa.
This afternoon, Ely and the Dodgers go on Date No. 8, and it's safe to say that their relationship has gone deeper than anyone would have thought that first time in New York 5 1/2 weeks ago. Ely has a 2.54 ERA in 46 innings with 37 strikeouts, allowing only 44 baserunners and still not a single home run. He has gone at least six innings in every appearance, averaging 15.1 pitches per inning. And not coincidentally, since his arrival, the sun has shone brighter on Los Angeles, the grass has smelled sweeter, and the wins have come easier. The Dodgers are 24-12 since Ely first went to the mound for the team, and while he doesn't deserve all the credit, it's not so absurd to think that on some level, he completes them.
There are no wedding bells yet; the Dodgers have not committed to Ely until retirement do them part. But let's just say they find Ely rather engaging. "Meet cute," indeed. At this point, this is one they're going to try to make work for the long haul, so they're going to put up with the occasional flaw, the occasional sour day, because like Mama said, who doesn't have days like these? And because Ma, this one looks like a keeper.