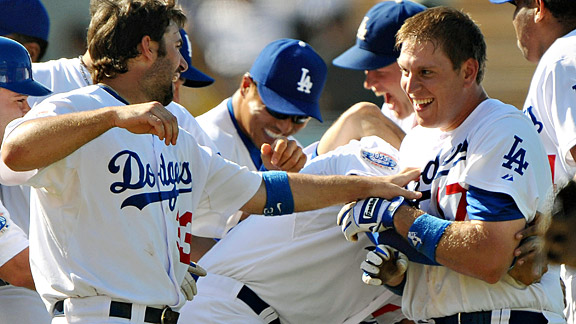 Kirby Lee/US PresswireAyyyyyyyy, Jayyyyyyyy!
A.J. Ellis' 11th-inning single to left gave the Dodgers' their Dodgers' sixth win in their past eight games – all by one run, four by walkoff hit and three in extra innings. In going 6-2, the Dodgers have been outscored by one run.
Tony Jackson of ESPNLosAngeles.com recaps Ellis' heroic finish, which came after a long day.
Ellis has only six hits on the season, five singles and a double, but also has seven RBI.
* * *
John Ely's homerless streak to start his career ended at 196 batters, and his second homerless streak ended at two batters, as the Braves touched him for nine hits in addition to two walks. "I threw some fastballs that came back over the plate," Ely told Jackson. "Good hitters don't miss pitches over the plate. I can't be missing over the plate that much, and today, I missed a couple of times."
Casey Blake showed some improvement, according to Dylan Hernandez of the Times, and might avoid the disabled list. Nick Green cleared waivers and is back in Albuquerque in case the Dodgers want him to return.
Russell Martin, who scored the winning run after pinch-walking Sunday, almost ended up back at third base earlier in the game. Blake DeWitt had to be checked out after seeming to hurt himself on a slide, and the Dodgers had already used Ronnie Belliard as a pinch-hitter. With Blake out, that left Martin as the remaining infielder. But DeWitt stayed in the game and ultimately sacrificed Martin into scoring position in the 11th.
Here's video of Jose Lima, Jr. throwing out the honorary first pitch on the day they honored his late father. Miguel A. Melendez has more details in the Daily News.
The Dodgers expect to activate George Sherrill from the disabled list Tuesday. Sherrill had back-to-back scoreless relief appearances this weekend. It would seem to me that Charlie Haeger is on a thinner bubble to stay on the team than Justin Miller, who has thrown 6 1/3 shutout innings since joining the team with two hits, one walk … and three hit batters. I'd also imagine it's going to be a lot easier for Haeger to clear waivers at this point. There's always the possibility of someone taking a trip to the disabled list, of course.
The enigma that is Ramon Troncoso is examined by Mike Petriello of Mike Scioscia's Tragic Illness. And frankly, Petriello doesn't see much of an enigma, but rather a pitcher who was due for a decline only in part because of Joe Torre's frequent use of him.
There was a rogue fan at Dodger Stadium causing serious problems for Tim Hudson, writes The Associated Press.


The two-time All-Star was about to make his third pitch of the eighth inning to Matt Kemp when he was distracted by someone in the crowd who had an object that was reflecting the sun right into his eyes.

"One was a purse handle, one was a mirror, and some of the people up there were playing games up there," (Braves manager Bobby) Cox said. "And these seats, the way they're painted, you can't see the ball off the bat in a day game at times. So that's dangerous enough — along with somebody messing with mirrors to try to reflect light into your eyes."

The game was held up about 5 minutes until stadium security could identify the fan in question, and Kemp singled on Hudson's next delivery. At that point, Eric O'Flaherty relieved. Kemp advanced to third on Garret Anderson's bunt and DeWitt's grounder, but Ellis was robbed of a bloop single on a diving catch by center fielder Melky Cabrera.

"It kind of stinks that [the fan] screwed with the flow of the game, but you're going to have occasions where people are idiots," Hudson said. "I was probably just out there for one hitter, anyway, because we had O'Flaherty warming up. We were at the point of the game where we had to start going with matchups, because one run was probably going to win or lose the game."

Since I wrote about them going 5 for 95 to start their season, Dodger pitchers went 3 for 7 this weekend. Ely's 30-foot single Sunday was his first as a pro.
While my favorite baseball movie is "The Bad News Bears," Josh Wilker of Cardboard Gods today describes the greatness he sees in "The Bad News Bears in Breaking Training."
Kyle Russell didn't play for Inland Empire on Sunday, and Kevin Goldstein of Baseball Prospectus thinks it might be because he's getting promoted to AA Chattanooga. Russell has a 1.140 OPS and 16 homers in 198 at-bats.
After getting more than halfway to Orel Hershiser's 59 consecutive scoreless innings, Colorado's Ubaldo Jimenez gave up a two-run homer in the eighth inning Sunday to reset his clock. Well, there's always Bob Gibson – Jimenez's ERA remains an unbelievable 0.93.
For those of you following the Dodgers' playoff rivals in the East, Crashburn Alley and Phillies Nation are discussing whether the Phillies should release Raul Ibanez.
Another Phillies note, but much more fun: From Stat of the Day, Jamie Moyer has faced 20 players already in the Hall of Fame, and counting.
The Major League Baseball draft starts today – but in its new format, not until 4 p.m. and only with the first round and mini-supplemental round, before continuing Tuesday and Wednesday. The Dodgers' first pick is 28th overall.