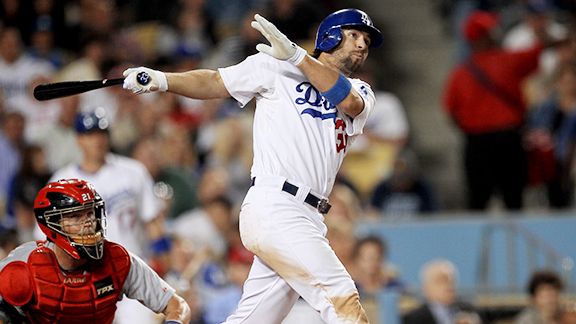 Kirby Lee/Image of Sport/US Presswire
Blake DeWitt drove in five runs, three on this, his first home run of the year.
On a night that Blake DeWitt drove in a career-high five runs, one of the mesmo men was at it again.
Carlos Monasterios pitched a two-hitter for six innings despite striking out nary a batter. Even after giving up Ryan Ludwick's second solo homer of the night and a Randy Winn single to start the seventh inning, Monasterios can go to sleep tonight with his ERA still at 2.27 for the season and, thanks to an efficient Dodger offense capped by DeWitt's first home run of the season, a 12-4 Dodger victory Monday over St. Louis.
Monasterios needed only 41 pitches to get through four innings, then got into a two-walk, none-out jam in the fifth but escaped with a double play and a fly out. He cruised into the seventh inning even though, according to Vin Scully, there was only one swing and miss against Monasterios all night. But as has been the case most of the year with Monasterios and John Ely, the contact wasn't enough to do major damage.
After taking a 2-0 lead in the first inning and then seeing it halved in the next frame by Ludwick's first home run, the Dodgers scored four runs in both the fourth and fifth innings, with pretty much everyone getting into the act. Manny Ramirez started things off with a double, and after a Ronnie Belliard walk, scored on a DeWitt single. A.J. Ellis squeezed home Belliard, and after Monasterios sacrificed, Rafael Furcal hit a ground-rule double to right to make the score 6-1.
In the fifth, walks to Andre Ethier and James Loney were followed by a Belliard RBI single, and then DeWitt hit one off the right-field foul-pole screen to make it 10-1.
Every Dodger starting position player (plus pinch-hitter Garret Anderson) had a hit except Loney, who walked three times. And every Dodger starter scored in this emphatic end to the streak of winning games by one run.
* * *
Congrats to the family of Dodger PR veep Josh Rawitch, who not only became the father of his second child today, but had the birth announced on the air by Scully.