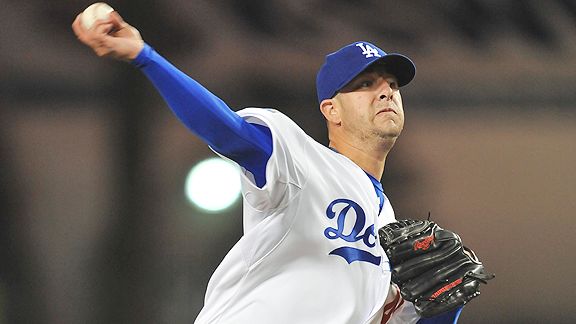 Jayne Oncea/Icon SMI
Justin Miller is on the Dodger roster bubble despite a 3.48 ERA.
Vicente Padilla isn't a 100 percent lock to rejoin the Dodger starting rotation this weekend, but you can pretty much count on it. Though he gave up four earned runs in 5 2/3 innings for Albuquerque on Sunday, he threw 81 pitches and didn't walk a batter. Assuming he feels fine physically today, he should be on the Fenway Park mound Friday or Saturday, with John Ely starting the other day and Hiroki Kuroda going on Sunday. (It would make more sense to have Padilla wait until Saturday, thereby giving the Dodgers an extra day with an extra relief pitcher, unless that upset Padilla's rhythm somehow.)
Padilla's return means someone on the Dodger pitching staff must get displaced. Justin Miller presents yet another case of a pitcher whom the Dodgers would like to retain but is out of options. Miller, who gave up what turned out to be a critical eighth-inning home run Sunday, hasn't pitched badly for the Dodgers, allowing 13 baserunners in 10 1/3 innings while striking out 10, but he is the least important person on the staff at this point. Jon Link, among others, provides insurance for the Dodgers if Miller ends up in another organization.
Risking the loss of Miller is the only viable move the Dodgers have besides finding a person to go on the disabled list. There has been some talk that John Ely would go back to Albuquerque on Saturday morning precisely because he does have options remaining, but I think it's safe to dismiss that possibility. Ely hasn't pitched badly enough to warrant the demotion, and Joe Torre seems eager to get Carlos Monasterios back into the bullpen. So even though the Dodgers' June 21 off day would allow them to go with a four-man rotation through June 26, expect Ely to stick around. (If Ely were demoted, then Monasterios would be starting the middle game against the Yankees unless the Dodgers performed some more roster shenanigans).
As far as the disabled list goes, well, there's always a recurrence of George Sherrill's back injury, not to mention "elbow soreness" for someone like Ramon Troncoso.
At this point, this problem feels like a good one to have. Not everyone was excited about Padilla's impending return, but they're probably a little less unexcited after seeing Monasterios struggle Sunday. I don't expect Padilla to be the pitcher he was at the end of 2009 – though in any short spurt he might be – but if he's even the average pitcher he was before he came to the Dodgers, that'll probably be fine. Let's face it, the Red Sox are a challenge for any Dodger pitcher.