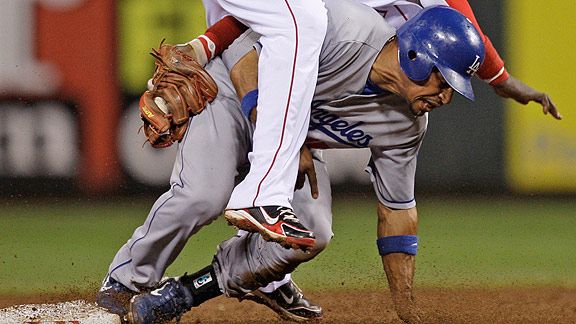 Al Berhman/AP
The Reds couldn't stop Rafael Furcal – they could only hope to tag him out trying to steal in the sixth inning.
In the middle of tonight's game, the Dodgers worried that their three-run first-inning outburst might be washed away by rain. Turns out the team was just getting started.
On a night that Rafael Furcal had five hits, the Dodgers scored nine runs after the tarp was removed at soaked and nearly empty Great American Ballpark in Cincinnati, finishing off a 12-0 romp at 12:52 a.m. on the East Coast.
With Hiroki Kuroda leading the pitching before and after the rain delay, the Dodgers stayed within a half-game of San Diego for the best record in the National League. Yet for the season, the Dodgers had only outscored their opponents by two runs, 292-290, before tonight.
Furcal, who grounded out in the ninth while bidding to tie the Dodger team record of six hits, had four singles and a double, and also dazzled defensively. James Loney (now the team's RBI leader) added three doubles and a single, giving him seven hits in his past nine at-bats. Left field also had four hits for the Dodgers, with Manny Ramirez homering and singling twice in his second consecutive three-hit game, and Reed Johnson adding a single. The Dodgers had 25 baserunners in all – Ramon Troncoso even had a bases-loaded walk.
According to the Dodger TV broadcast, the last time two Dodgers had at least four hits in a game was when Jeff Kent and Marlon Anderson did it in the 4+1 game on September 18, 2006.