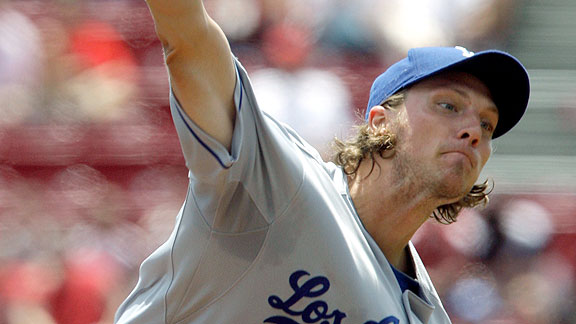 Al Behrman/AP
John Ely's ERA rose today to 4.15 — a number the Dodgers would have been glad to have when he was first called up.
After six consecutive good starts, John Ely has had three consecutive poor ones — the latest, seven runs allowed in 4 2/3 innings, including a three-run homer by opposing pitcher Bronson Arroyo — in the Dodgers' 7-1 loss at Cincinnati.
That wasn't an earthquake you just felt in Southern California, that was the thud of Dodger fans leaping off Ely's bandwagon. But Southern Californians tend to overreact to the slightest rumble in their sports universe. (Get your psyches retrofitted for tonight's Lakers game, just in case.)
Back when things were going well for Ely, all of two weeks ago, we all knew he eventually would have some subpar performances, so I don't know why there should be any surprise that it has happened. A quick look around the comments sections of various sites and Twitter already shows some fans not only disappointed, but giving up on Ely as quickly as they fell in love with him. If it weren't for Chad Billingsley's injury, it appears that some of them would expect Ely be sent back to Albuquerque tonight.
It almost never fails to stun me that even the most experienced baseball fans expect players to deliver the same level of performance every time out. A pitcher whose ERA is around 4.00 isn't going to allow four runs each and every nine innings. Ups and downs are a fundamental part of this game. Yet somehow, a good player is always supposed to be good — if he's not good, he must be bad.
What I think happens is this: There's an insatiable rush to judgment. So many fans are determined to know, to draw conclusions. "Wait and see" is not a comfortable place for people to be. It's easier for a lot of people to give up on a player, or at the very least drop their expectations down to nothing, than to simply ride out his struggles.
As excited as I was about John Ely during his hot streak, his future remained a mystery. No big deal: I watch the games like I turned the pages of Agatha Christie novels as a kid — to see what happens next. A guess at the future doesn't change the text on the next page. Now that Ely is slumping, I can say, "That's too bad." But there's a difference between saying "That's too bad" and "He's a fraud."
My point is, we learned very little about John Ely today. He gave up three home runs in a place where home runs are frequently given up. We always knew that was possible — there's no news there. Much more relevant will be what John Ely might have learned about John Ely today. It might well be that this is the beginning of the end of Ely's young career, that he has fooled all the people he can fool, but much more likely is that it is one of many twists in a windy road. For all we might think we see at the horizon, we don't know yet what's going to be coming around each and every turn. We just know the turns will be there.