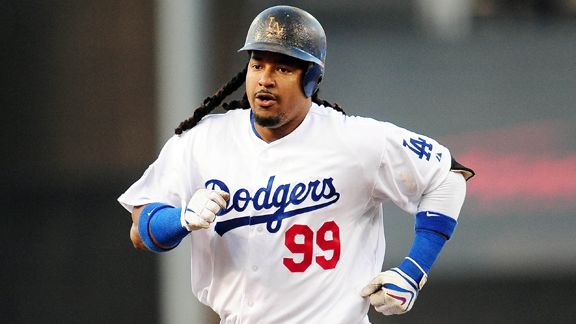 Gary A. Vasquez/US Presswire
Manny Ramirez has a .430 on-base percentage and .585 slugging percentage as a Dodger. His OPS with the team is higher than it was with the Red Sox.
Think back to what the expectations were that summer day in 2008 when the Los Angeles Dodgers acquired Manny Ramirez. Think back to the fears.
That's the standard Ramirez had to meet to be a success. And by that standard, that's exactly what Ramirez has been.
As Ramirez was leaving the Boston Red Sox, the shout could be heard from coast to coast: "GOOD RIDDANCE!" He was 36 years old, objectively past his athletic prime and subjectively a cancer. For a Dodgers team saddled with its own nightmare in Andruw Jones (without the benefit of that nightmare having led the team to any World Series titles just a few years before), for a Dodgers team spinning its wheels with a 54-54 record, Ramirez was a calculated risk, potentially a waste of time and potentially a disaster. But instead of relying on the sub-.700 OPS Juan Pierre and Delwyn Young to fill out their outfield, the Dodgers gave up their third baseman of the future, Andy LaRoche, and first-round draft choice Bryan Morris, in the hopes that Ramirez would provide a jolt and not an electrocution.
That trade, in and of itself, can only be seen right now as a complete success. A spectacular one. Ramirez put together one of the most pyrotechnic hitting performances in Dodger history – an on-base percentage of .489 and slugging percentage of .743, 17 homers in 53 games – to lead the Dodgers to the National League Championship Series for the first time in 20 years. LaRoche, endorsed in this space repeatedly as the real deal, has fallen into a utility role with the struggling Pittsburgh Pirates at age 26, while the 23-year-old Morris is in the minors trying to come back from arm trouble. Both are young enough to change the scorecard, but I'm not sure anyone's expecting the scales of that trade ever to be balanced.
If Ramirez's accomplishments then seem tainted by his 2009 suspension now, the stain would only be darker on the Red Sox's titles.
Then came the 2008-09 offseason, with the Dodgers talking Ramirez agent Scott Boras down from his histrionic expectation of a six-year megadeal – a request blindly endorsed by many in the media – to a two-year contract (including Ramirez's option for the second year). Through May 6, 2009, the performance remained stratospheric: Ramirez on-based .492 and slugged .641. Then came his 50-game suspension.
That Ramirez broke the rules was distasteful. That he missed 50-plus games in his age-37 season is simply something anyone could see was possible. It was part of the risk; it was part of the reason that Ramirez and Boras got a contract that was only a third as long as they wanted. The May suspension and then a July hand injury accelerated Ramirez's decline. The out-of-this-world player from late 2008 had left this world in 2009. By Ramirez standards, he was down.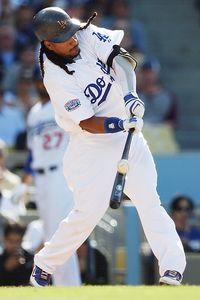 Ben Liebenberg/US Presswire
Ramirez has a .622 slugging percentage in June.
Funny thing, though. By Dodger standards, he was still nothing less than great.  For the year, Ramirez had a .418 on-base percentage and .531 slugging percentage in 104 games. His adjusted OPS of 155 was the highest by a Dodger (minimum 100 games) since Adrian Beltre in 2004.
Because Juan Pierre played above his own head for the month of May and pieces of April and August, Ramirez was considered a flop. Countless wanted him benched, claiming Pierre was the team's MVP. Yet Ramirez was, quite simply, the better player. (His Wins Above Replacement figure of 2.6, according to Fangraphs, was nearly 50 percent higher than Pierre's 1.8.) Ramirez did more to boost the Dodgers to their second consecutive NLCS appearance.  Of course, Pierre gets more respect for his character, but tellingly, you don't hear Pierre's name mentioned in Los Angeles anymore, not with his OPS down to .588 this season in Chicago. No one's busting Frank McCourt's chops for failing to sign Gandhi and Mother Teresa to multiyear contracts.
This season, Ramirez has been inconsistent. He's looked feeble in the outfield. He's also been withdrawn from the media – a fact that seems to matter greatly to the media and not at all to anyone else. And yet, as he heads to Boston for the first time since his acrimonious departure, look where his numbers are: .386 on-base percentage, .517 slugging. Of late he has heated up, with an OPS of nearly 1.000 in June. The Manny Ramirez who will be cascaded with boos this weekend is a Manny Ramirez who is still one of the bigger offensive cogs in baseball.
Amid all the concerns swirling around Dodger ownership today, it's quaint now to look at Ramirez's $45 million price tag and debate whether the McCourts were overspending. You can look at the list of 2008-09 free agents and find a better way to spend $45 million – if you look long and hard enough. Mostly, what you'll find is a host of players who, with a lot less grief, have done noticeably worse than the war-torn Ramirez.
If you compare Ramirez to the player he was in September 2008, if you hold him to a standard so unreasonable only he could have set it, then he's a disappointment. But if you compare him to the player he was in July 2008, the player many people reasonably feared he might become in 2009 and 2010 – in other words, if you make a sane comparison – he still looks rather remarkable. Ramirez has few to blame but himself for becoming a fan and media pinata, but those smashing might pause for a moment to note all the candy that has been pouring out of it.