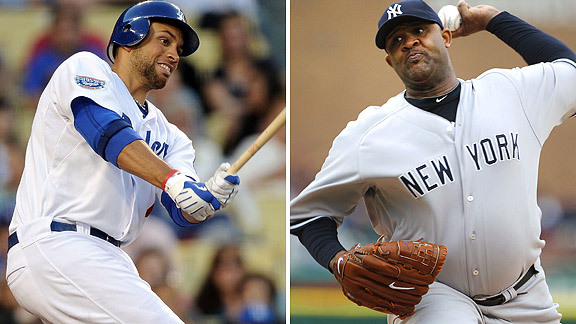 Getty Images/AP
When James Loney faces CC Sabathia, you can throw out the records! Right?
In 629 at-bats against lefty starters this year, the Dodgers have a .682 OPS, with 41 doubles but only eight home runs. They also have one stolen base with a lefty starter on the mound.
Not too surprisingly, right-handed hitting Jamey Carroll is getting the start over left-handed hitting Blake DeWitt at second base against left-handed pitcher CC Sabathia. Perhaps surprisingly, this is a mistake by small-sample 2010 standards. DeWitt is OPSing .923 against lefty starters this year, Carroll .499.
For his career, DeWitt has an .809 OPS against lefty pitching and .699 against righties.
* * *
A nice treat: Fernando Valenzuela recalls his underrated complete game victory in the 1981 World Series to Tony Jackson of ESPNLosAngeles.com. I had never really heard Valenzuela talk about the game before.
* * *
Here's a preview from the Yankee perspective from our good friends at Bronx Banter.