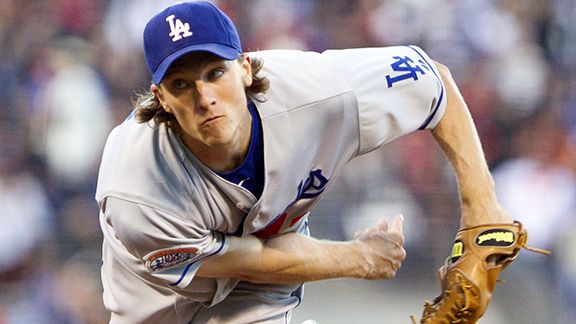 Jason O. Watson/US PresswireRemember me? I'm still getting it done
John Ely walks the occasional batter now, and Elymania has died down, but with everyone's attention elsewhere, he is back to doing the job.
After a 30-pitch first inning in which he walked two and gave up a double and a run, the rookie righthander stymied the Giants in pitching the Dodgers to a 4-2 victory Tuesday. He went six more innings, allowing only five more baserunners and no runs, giving the Dodgers a much-needed lift. Ely pitched his second consecutive game of seven innings and one earned run, lowering his season ERA to 3.62.
James Loney was another hero, twice giving the Dodgers the lead with an RBI single in the first and a two-run single in the fifth. Rafael Furcal (3 for 5 with a triple) and Russell Martin (2 for 5 with two steals) were the main tablesetters for the Dodgers, and Casey Blake had the other RBI.
With Jonathan Broxton, Hong-Chih Kuo and Ronald Belisario all designated for rest after heavy workloads in recent days, the Dodgers had to regret some missed opportunities to put the game away. They stranded Furcal at third base with two out in the sixth and left the bases loaded in the seventh.
But in the eighth, Ramon Troncoso got two outs, gave up a single, and then George Sherrill came in and had what had to be his best sequence of the season, going 1-0 on Aubrey Huff and then striking him out on three perfect breaking pitches – Sherrill's first strikeout since May 17.
Justin Miller, who began the season in AAA, had a chance for his first career save in his 176th career major-league appearance, but gave up a leadoff homer in the ninth to Pat Burrell and a two-out single to Edgar Renteria that fell just in front of Reed Johnson in left field. Belisario, who began warming up after the Burrell homer, came in for the third consecutive game after having thrown 12 and 13 pitches the previous two nights. Rookie pinch-hitter Buster Posey lined Belisario's first pitch to Furcal, who reached to snare it for the final out. That gave Belisario his first career save in his 103rd appearance. (Bob Timmermann adds that it was the first one-pitch save by a Dodger since Duaner Sanchez in 2005.)
San Diego lost again, allowing the Dodgers to close to within three games of first place in the National League West.
Matt Kemp, who came off the bench in the first inning after Manny Ramirez's injury, fouled out, struck out and singled twice in four at-bats, while making two more long running catches in center field. Both catches came on full sprints after slow reactions, but that's basically how Kemp did the job in center all last year.
Johnson went 0 for 4, striking out three times for the second consecutive game, matching Kemp's feat from Thursday and Friday last week.
Tony Jackson of ESPNLosAngeles.com has more on the Kemp drama.