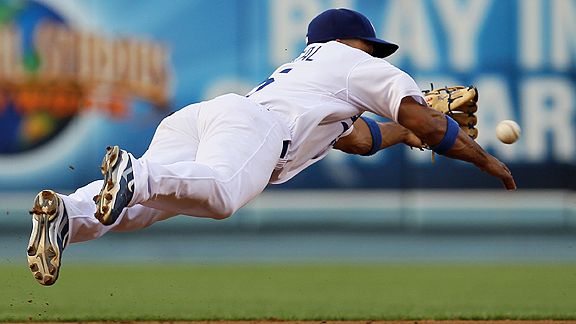 Stephen Dunn/Getty ImagesRafael Furcal shows how close John Ely was to a good night Monday.
During one of Stanford's unexceptional football seasons when I was there, the offense had become so frustratingly predictable that the student section began yelling out "Volpe up the middle" on first and second down before the plays were run. Almost invariably, we were right. Not surprisingly, defenses adjusted quickly. It wasn't exactly sabotage on our part – we were just trying to encourage change. They told us during freshman orientation to question authority, after all.
Anyway, that all came unpleasantly back to mind Monday at Dodger Stadium, when Florida relentlessly went up the middle on the John Ely, knocking him out in the third inning of a 6-5 victory over the Dodgers. If you look at the game's hit chart (click on "Field Controls" and then "Away Hits"), you'll see that eight of the Marlins' 10 hits went between the 385 and 395 markers, five to straightaway center. A potential inning-ending double-play ball in the first went off Ely himself, leading to the second run of the opening frame. Then in the third inning, the first four Florida batters all singled up the middle, three of them scoring to boost the Marlins' lead to 6-1. A diving Rafael Furcal stopped one of the balls and almost turned an amazing double play that inning as well, but it was not to be. Ely's night ended when he allowed a single to opposing pitcher Nate Robertson … to center field.
This is not to completely exonerate Ely for his performance, but I came away feeling the rookie righthander mostly did what he was supposed to do. He threw strikes (25 balls to 18 batters), walked only one and struck out three in his 2 2/3 innings. Clearly, Florida was able to hit the ball hard enough to cause problems, but a small amount of luck would have made a big difference. You'd rather have a pitcher that didn't need luck to win, but I still feel encouraged that the Dodgers have a guy in Ely who at least will take advantage of it.
"It's still not going to keep him from pressing," Dodger manager Joe Torre told Brian Kamenetzky of ESPNLosAngeles.com. "He's still young, and it's still new to him. He may not be able to restore order as quickly as someone who has been down that road a time or two, but that's how you gain your experience. Trial and error."
More tangibly, the Dodgers had just enough good performances in this one to turn what might have been a rout into a heartbreaker. Jeff Weaver and Ronald Belisario were fairly remarkable in relief of Ely, combining for 6 1/3 innings of one-hit, one-walk shutout ball (with Weaver stranding two runners inherited from Ely). Weaver threw 50 pitches in his 3 1/3 innings, while Belisario completed his career-high three innings in only 26 pitches.
Meanwhile, the Dodgers rallied, scoring a run in the third before the running-out-of-words-to-describe-how-hot-he-is Furcal hit a two-run homer to cut the deficit to 6-4. A double by James Loney to drive in Andre Ethier (2 for 3 with a walk) in the eighth drew the Dodgers within a run. However, the team went down in order in the ninth, with Garret Anderson missing a potential leadoff double as a pinch-hitter because Florida was guarding the lines. You should've gone up the middle, Garret – that was the winning strategy Monday.
* * *
Manny Mota was interviewed by David Laurila of Baseball Prospectus. Much of it is focused on Mota's arrival in the States and the beginning of his career.