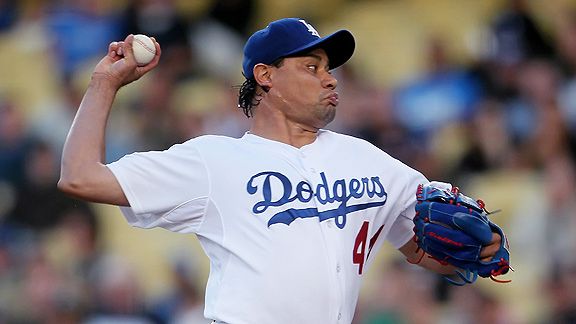 Jeff Gross/Getty ImagesVicente Padilla
Two starts ago, Vicente Padilla allowed two runs in seven innings. Last start, Padilla allowed one run in seven innings. But with a shutout through 6 2/3 innings tonight, Padilla lost a chance to keep that progression going and create a lot of anticipation among mathematicians and physicists for his next start.
Nevertheless, it's been a real hot streak for the enigmatic righty.
Padilla left after those 6 2/3 innings in the Dodgers' 7-3 victory over Florida, allowing five hits and no walks while striking out nine before surrendering a two-run home run on a 1-2 curve to Marlins' rookie Mike Stanton. With the exception of a 12-pitch at-bat by Cody Ross with two runners on base to end the fourth inning, it was a breezy outing for Padilla, who allowed two runners to reach second base and none to reach third before Stanton's homer.
Matt Kemp (2 for 5 with two of the Dodgers' five season-high steals) followed Rafael Furcal's two-run single in the second inning with a monster homer to left field – Kemp's fourth homer in his past six games and 16th of the year – to give the Dodgers a 4-0 lead. Furcal tied Gil Hodges' 57-year-old franchise record by scoring a run in his 12th consecutive game. (Correction: Furcal is the first to do this since Hodges, but Hodges does not hold the franchise record.)
Casey Blake and Andre Ethier each later hit solo home runs, while Kemp almost topped off his night with a near-three-run homer in the bottom of the sixth that was caught at the wall. Furcal bookended his evening with an RBI single in the eighth.
Blake DeWitt had a single, two walks and his first two steals of the season.
Jonathan Broxton warmed up in the bullpen with the Dodgers leading by four runs in the eighth inning, sat down after the lead went up to five, then warmed up again and entered the game once Travis Schlichting gave up three hits and his first run of the season in the ninth. With visions of the Yankee game from nine days ago and Colorado scoring nine in the ninth to beat St. Louis, 12-9 tonight, Broxton retired both batters he faced to get the save.