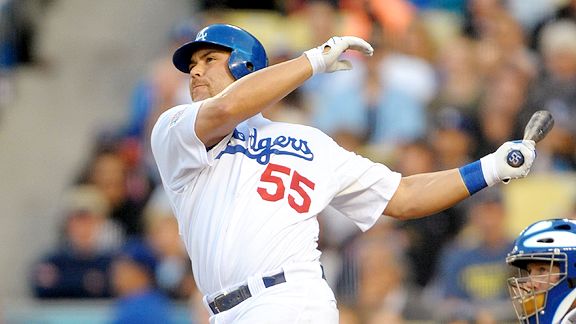 Kirby Lee/Image of Sport/US PresswireRussell Martin goes boom, finally.
Well, it's really starting to get interesting now. It might not happen this quickly, but there is the possibility that when baseball takes its midsummer break, there will be a three-way tie for first place in the National League West between Los Angeles, Colorado and San Diego.
Nothing's decided in July, but certainly the Dodgers are happy (and relieved) to gain another game on the Padres with a 9-7 victory tonight over the Cubs. Los Angeles also kept pace with the charging Rockies, who rallied from a large and late deficit for the third night in a row, this time defeating San Diego, 10-8. Colorado has won five straight, and both the Dodgers and Rockies are two games back of San Diego with two games left before All-Star time.
After the Dodgers fell behind 1-0 in the second inning, Russell Martin hit his first home run in 60 days – a smash with two men aboard in the bottom of the second – to give the Dodgers the lead they would keep for the rest of the night. I had hoped it would be the kickoff to a long overdue laugher of a night for Martin, but he was retired in his next three plate appearances. After getting two hits June 29, Martin has had exactly one hit in each of his past eight games.
In any case, the Dodgers had a few nice chuckles of their own tonight, leading 9-3 after six innings (with Andre Ethier and James Loney each reaching base three times), but Jonathan Broxton once again found his way into the game after the Cubs (along with George Sherrill and Justin Miller) made Dodger manager Joe Torre sweat.
It was a down-and-up night for Chad Billingsley, who allowed seven baserunners in the second and third innings but kept the damage to a run in each. Billingsley then allowed only two more hits and a walk before being pulled following a leadoff single in the eighth inning. (Torre, who is becoming a regular Agatha Christie the way he is authoring such mysterious use of his pitching staff, had Billingsley start the eighth with 115 pitches already thrown in the game, a move that perplexed everyone from me to Vin Scully.) For those who keep track of such things, Torre's decision cost Billingsley one of them so-called quality starts by letting a fourth run be charged to him, that run coming home on an 0-2 wild pitch by Miller after Sherrill gave up a double. Another run followed, cutting the Dodgers' lead to four and meaning that the one pitch Sherrill threw boosted his ERA from 6.86 to 7.32.
Miller had a chance to close out the game in the ninth, but was pulled for Broxton after allowing a leadoff single in the ninth. Aramis Ramirez tripled in the Cubs' sixth run when Ethier flailed in a diving attempt to make a catch he should have made, and then Marlon Byrd's seventh hit in two nights added the seventh run. Tyler Colvin batted as the tying run, echoes of the Dodgers' collapse against the Yankees in June in everyone's mind. But Colvin struck out, the Cubs' 26th strikeout against the Dodgers in two games.
Scully summed up: "The Dodgers stagger, but hold on to win."
I think it's safe to say that by next week, this Dodger middle relief will not stand. Changes must be coming.
* * *
Seattle asked the Dodgers for Billingsley or Loney in a trade for Cliff Lee, according to an anonymous source in this story by Tony Jackson of ESPNLosAngeles.com. The Dodgers offered several minor leaguers, the source said, but wouldn't give in on the major-leaguers.
* * *
Three days after returning from a long stay on the disabled list, John Lindsey doubled and homered three times for Albuquerque in a doubleheader today. Ramon Troncoso gave up a game-winning home run in his second appearance since being sent to the Isotopes. (The winning pitcher in that game? Matt Herges.)