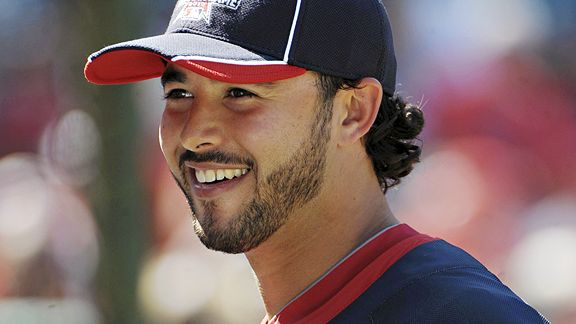 Kirby Lee/US PresswireAndre Ethier has earned the right to smile.
I think Andre Ethier has some of me in him.
I have high expectations of myself. I have a sense of pride in my abilities, but at the same time, frustration when I am not equal to the task before me. I get angry when I fail, and then the questioning of my self-worth revives.
I want people to know that I know that my failings are unacceptable, and sometimes there isn't a graceful way to do that. If I know that I'm making my best effort, if I know I'm capable of better, and if the people around me know these things, then this shouldn't be a problem.
But sometimes, I just feel like I have to keep proving myself — to myself and to others. And that's when the frustration comes out for everyone to see.
I'm glad that Ethier is having his moment in the sun today — and surely hope that it isn't clouded by playing out of position in center field. I hope that he can revel in this honor, because the next proving ground is just around the corner.
Congratulations, Andre.
* * *