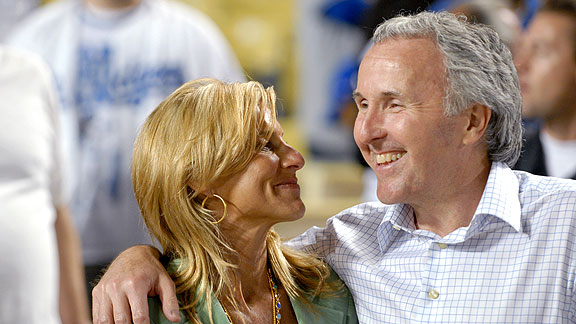 Carlos Delgado/APJamie and Frank McCourt, Sept. 25, 2008
ESPN The Magazine reporter Molly Knight has devoted a fair part of her year to some investigative reporting on Frank and Jamie McCourt. Here is the published product of her efforts, which I suspect only scratches the surface of what she learned.
Knight was kind enough to take a break from the McCourt whirlwind to talk to Dodger Thoughts about the pair and their legal showdown:
Math quiz: How many hours did you spend reporting this story?
I couldn't even begin to count. I'm sure I spent at least 60 hours talking with their lawyers alone.
So much of this case hinges on the post-nup agreement to give the real estate to Jamie and the Dodgers to Frank. What can we say for certain about its validity, and what is legitimately unresolved about it?
That it exists is the only certainty. Right now Frank and Jamie are arguing about the schedules on the back after the signature page. Schedule A is Frank's take; schedule B is Jamie's haul. Unfortunately for Frank, his lawyer Larry Silverstein sent a draft to Jamie via e-mail about a week before it was executed that said Frank's take (on schedule A) excluded the Dodgers. Frank's lawyer Stephen Susman told me that was just a typo and that it was fixed before she signed it. Yikes.
Then on March 30 — the day before they signed the marital property agreement (MPA) in Boston — Silverstein sent an e-mail to Jamie without the schedules attached. You start to get the feeling why she says she was confused.
There are six copies of the marital property agreement for some reason. Jamie signed all six in Boston. Frank signed three in Boston and three two weeks later in L.A. Those documents have been in a vault in a law office for the past six years. They were flown to Long Beach yesterday (via private plane, I'm sure) to be examined by forensic scientists. The copies Frank signed in Boston were determined not to have been tampered with. Meaning they proved that Jamie signed over the Dodgers. The copies Frank signed in L.A., however, did not have the original schedule A that was present when Jamie signed them. What I think may have happened is Silverstein realized the typo'd version not giving Frank the Dodgers had accidentally been stapled to three of them and switched them out. This could come back to kill Frank.
After spending five minutes with Jamie you can't convince me this is a woman who would knowingly sign away the Dodgers. She wants the spotlight like Dodgers fans want Cliff Lee. Plus she's a shrewd businesswoman. I don't see a scenario in which she knowingly gave that up. I also don't know that I buy Frank tricked her. I think the likeliest scenario (if she did in fact sign the MPA giving away the Dodgers) is that the family had so much to do before going to L.A. — so many papers to sign and things to pack — that she didn't read it all the way through. I mean, when you have a stack of things on your desk to sign and you are moving cross-country the next day do you take the time to sit down and read every word? I know I wouldn't. She may not have known she was signing away the team, but if she did sign it she's pretty much toast. A contract is a contract.
Considering how much the McCourts borrowed, why didn't it occur to them to maybe rein in personal expenses just a little?
They live in a different world than we do, is the best answer to that. Frank has spent his adult life borrowing Peter to pay Paul. The only thing that changed is he got his hands on some better collateral. I think they were riding the gravy train knowing that when the TV rights came up in 2013 they'd become rich beyond their wildest dreams. I also think they desperately wanted to be part of L.A.'s high society. Trouble is out here you have to be a movie star to be A-List. No one cared until this divorce hit.
Is Frank really running out of money, or is this just a shell game?
It's not so much that he's running out of money as it is he has no liquidity. There was a great memo I saw from Frank's money manager in 2008 describing his "love/hate" relationship with cash. "Love to have it, hate to have it lying around." I believe he is having a hard time paying her because he doesn't believe in putting money in his checking account.
Was Jamie's role with the Dodgers unclear from the start, or did it just turn out that way after she and Frank started having problems?
It was unclear from the start. I talked to a guy who was responsible for writing her bio in the media guide before the 2005 season, and he said they did it 27 or 28 times. They'd send it to her for approval and she'd send it back, etc. She was definitely very involved — probably even more so than Frank — and that might have pissed a lot of people off because they thought she gummed up the works by interjecting herself into the most random things. Another thing I heard from a few people — which didn't make the story — is that she never bothered to learn the names of stadium employees she interacted with every day, from the security guards to the people who brought her drinks in her luxury box.
The PR department pleaded with her to take care of the people closest to her, because if you don't do that you're likely to get sniped. I think that's what you're seeing now in the press with both of them. Jamie acted a bit like Marie Antoinette (if these Dodgers employees are to be believed), and Frank created too many enemies by firing longtime Dodgers execs at will. I think that was their biggest mistake more than anything else they've done. They've created too many enemies to contain this PR nightmare. It wasn't that hard to get people to talk.
What was her biggest impact on the organization?
I still have no idea. Oh, maybe the hiring of Ned Colletti. I've heard stories that she became close friends with Jeff Kent after he volunteered to help domestic violence victims as part of her WIN Initiative. Both she and Frank respected Kent's willingness to serve the community. Jeff mentioned Ned Colletti to Jamie because he knew they were looking for a GM. Jamie suggested it to Frank. Ned killed in his interview because he didn't ask how much money he'd have to play with. A few former execs told me all this, so take it with a grain of salt. But it starts to make sense that Kent was responsible for Colletti when you see the contract extension he was rewarded with after Colletti got there.
What was the most surprising thing you learned that you can talk about?
Besides the fact that Jamie Enterprises is 500 feet from where Frank now lives? Gosh. Um. Probably that they don't hate each other and they're both sad. They went to the homecoming dance together freshman year at Georgetown. Jamie told me she was ready to be with him forever until she died. That was sad. She is sad. He is sad. I asked her why they can't just get together over a beer and put this behind them. She told me to ask Frank. Frank wouldn't talk to me.
How shocked would we be by some of the stuff you can't talk about?
I don't think any of you would be shocked by anything anymore. I think your gag reflexes have been stretched.
At this point, do you expect the parties to settle?
Yeah, I do. I think the pressure to settle rises as the trial date gets closer. In addition to this being a PR nightmare, Frank has so much more to lose financially than Jamie at this point. They're looking at staples and wondering if that MPA should be thrown out. If that happens he will be living a nightmare. I don't think he can take that risk. If I'm Frank I pay her off with a backloaded deal. She can collect when the TV rights transfer to Frank in 2013.
Why do you think they didn't settle this sooner, before more damage was done?
You're asking me why Frank and Jamie are Frank and Jamie. I don't think their split has anything to do with Jeff Fuller. I think Frank was tired of the figurative (and maybe literal) Project Jamie that was running wild on the Dodgers' dime. I think he was annoyed that his wife considered herself the face of the Dodgers instead of, say, Andre Ethier. Eventually he'd had enough. But where he screwed up was in treating Jamie like just another adversary. This is a guy who Jamie alleges sued his own father-in-law because he didn't want to pay him back. The man loves a lawsuit. And it's worked out quite nicely for him, hasn't it? He was in litigation for 17 years over a parking lot he parlayed into a baseball team. The trouble is this is the mother of his children. It doesn't help public perception that he is a nice person.
If this goes all the way through trial, what do you think will be the ruling?
I have no idea, and neither does Frank, which is why he can't take the risk of it going to trial. There is a chance that even if the MPA is found valid that the judge will rip it up because it's patently unfair. (He can do that.) Jamie is the underdog, but if I'm Frank I don't want to take any chances.
Who do you think will own the Dodgers next year? What's going to happen to this franchise?
Frank McCourt. I think he'll settle to get Jamie out of his hair. The franchise will probably be OK eventually. If they get back to investing in the draft and in the Latin American market, then they'll have the prospects to trade for deadline rentals that will complement the team's already fantastic core. At this point I think the success of the team has more to do with the performance of Chad Billingsley and Clayton Kershaw than of Stephen Susman and David Boies. I know Dodgers fans are sick of the McCourts, but there is no guarantee that a new owner would be any better. There is no owner's manual, and no law that says the Dodgers' owner must spend $140 million on payroll. It will be interesting to see if Frank ups the ante when more revenue starts rolling in with the TV stuff, though. That has certainly bankrolled the Yankees' run.