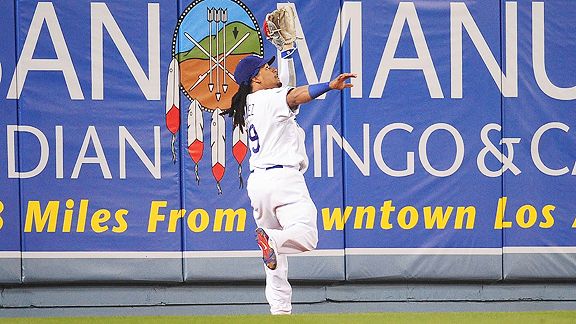 Gary A. Vasquez/US PresswireManny Ramirez and the Dodgers are in the chase, but who's up for the ride?
One of the most peculiar things to me about last season was how testy many Dodger Thoughts commenters were when things were going well.
For a Dodger team that basically won its division wire-to-wire and had the best record in the National League for almost the entire year, there was an overflow of discontent last spring and summer. The gripes could be rather specific if not downright picayune, but they were constant. Criticism of Joe Torre was ongoing. The war against Matt Kemp batting eighth took on a life of its own. If it wasn't one thing, it was another.
I pleaded with the unhappy campers to smell the roses, to accept that no team was perfect and enjoy what appeared to be the best Dodger team since at least 1988 (even accounting for Manny Ramirez's suspension). They told me not to take anything for granted, that success didn't eliminate the need for worry.
This year, aside from the occasional game like the Sunday night meltdown against the Yankees, things are less angsty in the comments. But weirdly, that seems to speaks to a deeper dissatisfaction in Los Angeles.
It's just a theory, but I think that in a sense almost everyone felt that last year's Dodger team was a special team. Or at least might be. Different people absorbed and reacted to this possibility in different ways, but overall the Dodgers' potential seemed limitless — with even a World Series title possible if they would just not screw it up. People didn't want to see that team wasted, and that made the stakes higher.
People don't think this year's team is a special team. Manny Ramirez is a year older, and Kemp's spot in the batting order is the least of anyone's concerns about him. There's plenty to be happy about, but the team got off to a grim start instead of a great one, and the McCourt saga has sapped that extra bounce from everyone's step.
Even though the Phillies seem less a threat now than they did a year ago, even though the path to the National League pennant is arguably more wide open than it was a year ago, even though the Dodgers currently sit only a half-game out of a playoff spot … no one seems all that excited.
The one fella that actually seemed to galvanize some fans was John Ely. His burst onto the scene was magical, spreading the kind of fairy dust that, accompanied by a nice month of May, made the eyes of Dodger fans twinkle. But for now, midnight has struck Ely down, and few seem very confident that we'll make it back to the ball.
I wouldn't have been writing this piece today if Clayton Kershaw had beaten St. Louis on Thursday, because I don't think it would have occurred to me to do so after a victory. But I don't think a victory would have changed the underlying feeling I'm getting. The ennui that seemed to accompany the 7-1 defeat crystallized some thoughts I've had percolating for a while.
After 10 or 20 years when Dodgers fans were grateful just to win a single playoff game, that's no longer enough. They want the World Series. And with but a few exceptions, they don't think they're gonna get it.
It's not that Dodger fans no longer care, or no longer desire. By and large, they just don't believe.