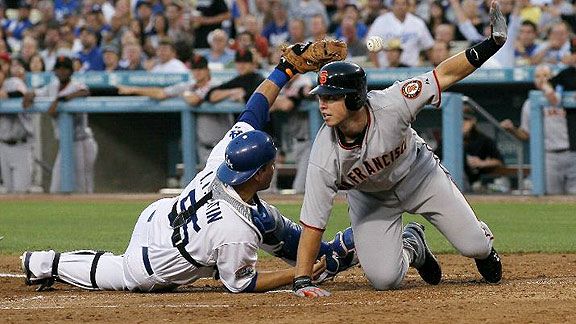 Stephen Dunn/Getty ImagesBuster Posey is safe at home with San Francisco's second run of the game.
Madison Bumgarner has the same last name that James Garner was born with, which is enough to make me wish that Jim Rockford would solve the Dodgers' criminal woes. Or that at least there might be an appearance by an angel.
Instead, the Dodgers dropped their fifth straight game, 5-2 to San Francisco. The Dodgers fell six games behind San Diego in the National League West and 2 1/2 behind Cincinnati for the NL wild card.
In his first major-league appearance of 2010, James McDonald looked good in a 1-2-3 first inning and escaped a bases-loaded, none-out jam of his own creation in the second inning. But then came two runs with two out in the third, and then more painfully, a two-run homer by No. 8 hitter Nate Schierholtz in the fourth that gave the offensively challenged Giants a 4-0 lead behind their talented rookie Bumgarner. McDonald finished the night allowing 11 baserunners in his five innings.
Starting the bottom of the sixth, NL batting average leader Rafael Furcal moved into fifth place on the team in homers with his seventh of the season. Jamey Carroll singled, and two outs later, James Loney walked, sending the tying run to the plate and Bumgarner to the dugout. But the Dodgers didn't tie the game, settling for a gift run thanks to a wild pitch by Guillermo Mota and a fielder's choice grounder by Matt Kemp (3 for 4) on which Carroll was ruled (incorrectly, it appeared) to have touched home before Loney was tagged out.
In the bottom of the seventh, the Dodgers got another look at the game when two-out walks to Garret Anderson and Carroll sandwiched a Furcal single. Lefty Jeremy Affeldt came in to pitch to Ethier, who hasn't done a whole lot with them all year. Ethier grounded to first.
San Francisco got an eighth-inning insurance run on what might have been another umpire mistake, a bases-loaded sacrifice fly on which other baserunners might have passed each other.
One more chance came for the Dodgers in the bottom of the ninth when Russell Martin and Furcal each got their third hits of the night, putting two runners on and the tying run at the plate with one out. Blake DeWitt struck out after taking a close 2-0 pitch for a strike.
That brought up Ethier, and it had been, what, a couple months since his most recent waving of walkoff magic. Giants closer Brian Wilson pitched carefully, walking Ethier to load the bases. But Wilson then struck out his sometimes-nemesis Casey Blake on three pitches.
There was no Rockford in Mudville tonight.
McDonald's turn in the rotation comes next Saturday afternoon against the Mets. He, Carlos Monasterios (two shutout innings tonight) or John Ely are all candidates to take the turn.