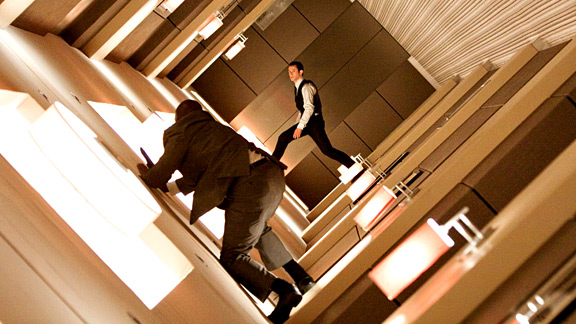 Warner Bros. PicturesUpside down, boy you turn me, inside out …
Each of the following passages is rooted in something real. And yet each reality offers a mystery.
I just had so many different thoughts, and this is me trying (and, as you'll see, mostly failing) to make sense of them. But whether I make sense of them or not, 10 days from now, on July 31, baseball's no-waivers-required trade deadline, we get the kick.
* * *
After a night like Tuesday – not to mention confirmation that Manny Ramirez will be out for a while – this Dodger team might seem to have a cloud of doom over it.
It's a Dodger team that hasn't been very healthy, hasn't been (except for a short stretch in May) very lucky, hasn't been very deep and lately hasn't been very good.
Rafael Furcal has exceeded expectations, as has Hong-Chih Kuo for all of 30 of the team's 840 innings pitched this season. Andre Ethier is a little better than expected, though not as much since early May. Same with Jamey Carroll. And after that, who?
The issue is not whether the Dodgers are out of contention. They're not. They could be leading the wild card race inside of a week. And unless you've completely ruled out the possibility of the upstart Padres having their own problems, the NL West is wide open.
We've all seen this show before – twice in recent years, in fact. In 2006 and 2008, the Dodgers had tremendous swoons, only to recover from them.
Each time, they got help at the trade deadline – without blowing up the team.
So, what now?
* * *
Well, it's not just about now.
At the end of this season, starting pitchers Hiroki Kuroda and Vicente Padilla become free agents. So does outfielder Manny Ramirez – who admittedly might not have much to contribute for the remainder of the year. Casey Blake looks increasingly like he's not going to hit enough to hold down third base. Russell Martin has devolved into a No. 8 hitter.
Those are the major concerns, before you even get into injury risk for Furcal and Kuo, or paying for James Loney's power uncertainty, or whether Blake DeWitt is a legitimate second baseman, and so on. People complained about the Dodgers needing to reload after the 2009 offseason, but the 2010 team will require even more new ammo.
And so, dual considerations. If you go for broke this year, you could be digging a hole so deep for the 2011 Dodgers that they can't recover. But is the hole for 2011 so deep already that you might as well go for broke?
* * *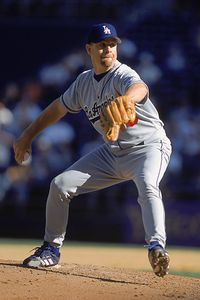 Scott Halleran/Allsport/Getty Images
Mike Trombley
Random trade deadline thoughts and memories …
Looking for relief help in 2001, the Dodgers traded minor leaguers Kris Foster and Geronimo Gil for Mike Trombley. Trombley allowed 17 runs and 37 baserunners in 23 1/3 innings.
Looking for starting pitching help in 2001, the Dodgers traded minor leaguers Jeff Barry, Gary Majewski and Onan Masaoka for James Baldwin. Baldwin made five quality starts in 11 tries, finishing with a 4.20 ERA as a Dodger.
July 31 is not the stopping point for Dodger general manager Ned Colletti, who in the past has acquired Greg Maddux, Marlon Anderson, David Wells, Jim Thome, Padilla, Esteban Loaiza and Jon Garland after that date. All those players, and more, cleared waivers, allowing them to be moved after the so-called deadline.
I really do believe that Carlos Santana was traded for Casey Blake, not for $2 million. Not saying it was the right thing to do. But I don't believe that Santana was a throw-in. I think Meloan was. Blake for Meloan and $2 million doesn't make sense to me from the Indians' perspective.
Yhency Brazoban made his major-league debut on August 5, 2004 and for the remainder of the year, struck out 27 in 32 2/3 innings with a 2.48 ERA, stranding 12 of 14 runners.
Is Kenley Jansen this year's Brazoban? Or this year's Meloan?
* * *
"Interested."
That word ignited off the 2010 Dodger trade deadline frenzy. Dejan Kovacevic of the Pittsburgh Post-Gazette reported that an anonymous industry source said the Dodgers were "interested" in Pirate pitcher Paul Maholm.
A thinner piece of news, you probably could not find Tuesday. Even if this source is correct – and he might not be – it tells us nothing of how serious the interest is. But suddenly, the Dodger online world was aflame with discussion of this pitcher with 4.5 strikeouts per nine innings, a pitcher who might be as poor a fit with a poor Dodger defense as you could find.
In his past two starts, Maholm has allowed two runs in 16 innings. In two of three starts before that, he allowed 12 earned runs in four innings.
Nothing to see here.
* * *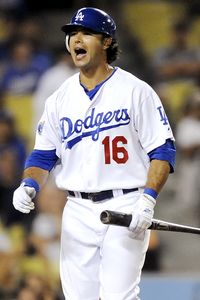 Gus Ruelas/AP
Andre Ethier reacts after Tuesday's game-ending strikeout.
And then there's Peter Gammons, whom Vin Scully Is My Homeboy noted last week was thinking out loud about the Red Sox pursuing Ethier.
The one team I keep wondering about if they drop a few games back, if the Dodgers start dropping back, would they talk about Andre Ethier. He's going to make $10-$12 million next year, the coaching staff feels with their bizarre ownership situation, they don't want to pay Ethier and might trade him now. That would be a fascinating guy to go after."
And when Steve Dilbeck of the Times helped spread word of this Tuesday (not to mention Alyssa Milano), more panic.
I'd say there's no chance of Ethier being traded. If the Dodgers aren't trading Matt Kemp, they're not trading Ethier. But let's say I'm wrong. Let's say there are bluffs all around and everything and everyone is on Colletti's table. The Dodgers would be trading Ethier at his highest value. The haul for a 28-year-old All-Star whose work ethic is unquestioned and who won't be a free agent until November 2012 could be astonishing.
* * *
For that matter, how many teams in baseball would like to have Furcal right now?
No, you'd never trade Furcal now. But six weeks ago, you would have. A slumping, injury-prone shortstop with millions upon millions remaining on his contract? You'd have traded him for less than you'd get for him now.
* * *
I'm talking way too much about trading key players away, but allow me just a little more before I move on.
Four days before the trade deadline four years ago, I wrote a lengthy column for SI.com, advocating that being a seller lose its stigma.
… It should not be so shameful for a .500 team, a team that can only win a World Series if karma and luck fall head over heels in love, to say, "Look, we can be a long shot this year, or we can make a small sacrifice and become a serious contender for years to come."

Teams can get hot instantly — there's no denying that. Florida surprised everyone in 2003, went on a run and won the World Series. Houston recovered from a faceplant of a start in 2005 and took the NL pennant. If you're three games out of the playoffs with a .500 record, the postseason possibilities may be so tantalizing that the slim odds of winning it all may not matter to you.

Good enough. That doesn't mean it should be a sin to step back and decide that whatever you have now, you can build upon with a little more patience. It should be a choice. And it can be a choice that remains open until the moment the deadline passes, a choice that depends on whether you can get a quality deal or not, as opposed to a deal that just makes you look busy.

As for the fans, some will complain. Some will always complain. But if you show you have a plan and you make an intelligent trade for the future, sacrificing a mere two months in the process could render those complaints moot rather quickly …
I'm not saying the Dodgers should become sellers, and I don't believe they will become sellers, but there is a case for it. And the funny thing is, the McCourt divorce provides cover for it. Ownership would get crucified by the mainstream for turning 2010 into a rebuilding year. But ownership is already being crucified. So why should we care about the bad PR, if that's status quo and ultimately the team would be better off for it?
* * *
This website celebrates its eighth anniversary today. After proclaiming my intention to exult or vent as appropriate, my first main post wondered aloud about whether the Dodgers should be sellers.
I guess that temptation has often been with me. Buoyed by the drafts of Logan White, the Dodgers were able to make long-term commitments to developing players from within. But the Dodgers have never taken a similarly long view with regards to midseason trades.
What if they did? I know it will never happen, but what if it did?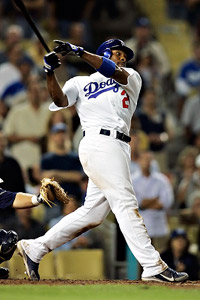 Francis Specker/AP
Marlon Anderson follows through in the ninth inning, September 18, 2006.
* * *
Then again, does it need to happen? Manny Ramirez in 2008 was a man-made gift from the heavens. And so was Marlon Anderson in 2006.
And 2004, the most tumultuous trade deadline of them all, worked out rather well.
So why not believe? Why not go for it?
Just a week ago, the Dodgers were in fine shape, a good team that was maybe a player or two away from becoming great.
* * *
Roy Oswalt? Jayson Werth? Dan Haren? Ben Sheets? David DeJesus? Scott Downs?
There are some names that could help the Dodgers. But not many.
Dee Gordon? Chris Withrow? Ethan Martin? Jerry Sands? Aaron Miller? Allen Webster? Joe Etc.? Who's irreplaceable? Who's gonna make you go, "I don't miss him that much – so it was worth a shot."
* * *
You need to be smart, and you need to be fortunate. And you can do that as a buyer or a seller. It truly doesn't matter which. If you are smart and fortunate, you will win.
The Dodgers won't be sellers. We can be sure of this. They will either stand pat or acquire someone to help immediately. They might try to acquire someone but end up standing pat because the price was too high. But those are the options.
But the thing is, if you acknowledge that standing pat is a possibility – and that standing pat probably means you won't win in 2010 (because the teams that rallied from the depths avoided standing pat) – then how can you not entertain the option of trading for the future instead of the present?
If standing pat is a worse choice than selling high, why wouldn't you be in talks to sell high, as a backup plan?
The answer is one of public relations, of public perception. But this morning, not too many people like the 2010 Dodgers right now anyway. And those that do aren't the ones who are likely to complain about sacrificing the 2010 Dodgers to make them more competitive in 2011 or 2012.
That's the paradox.
* * *
Anyway, enough about Plan B. Plan A is to improve the 2010 Dodgers now.
It can be done. Ownership or not. Roy Oswalt's contract or not. You can make smart trades. The Dodgers have done it before. They can do it again.
Ten days until July 31. Let the freakout begin.