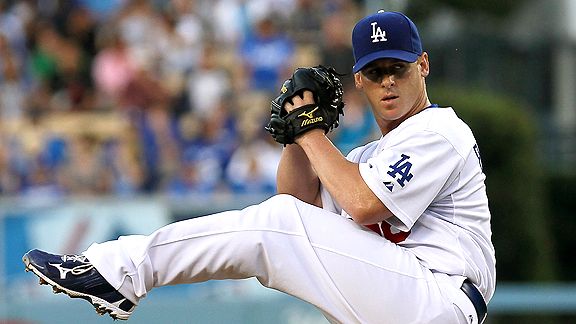 Stephen Dunn/Getty ImagesChad Billingsley
Whew – there it is.
With the Dodgers reeling, Chad Billingsley unfurled his second career shutout and third career complete game, scattering seven baserunners, and the Dodgers defeated the Giants, 2-0.
Billingsley struck out only three batters, but got 16 groundouts as the Giants went 0 for 8 with runners in scoring position. He threw 125 pitches, the most by a Dodger pitcher since Jeff Weaver threw 126 on September 27, 2005.
The Dodgers hadn't had a complete game since Eric Stults shut out San Francisco on May 9, 2009. Before that, the last Dodger complete game was a Billingsley shutout of the Giants on July 30, 2008.
It's a bit odd that Billingsley has only three strikeouts in his past two starts (after 17 in the two before that), but we'll ponder that another day.
Casey Blake homered in the second inning and singled home a run in the eighth to give Billingsley and the Dodgers the runs they needed.
* * *
Jay Gibbons, who some of us expected to be in a Dodger uniform tonight, hit two of six Albuquerque home runs in a 14-5 victory at Nashville.