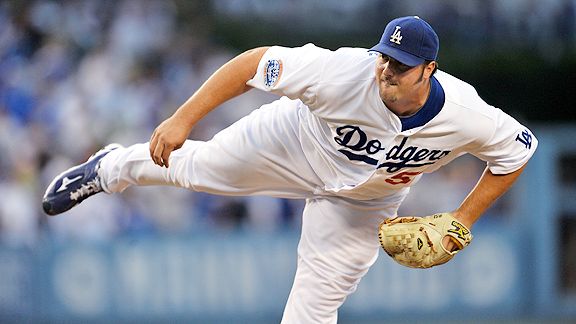 Jayne Oncea/Icon SMIJonathan Broxton has allowed 14 earned runs this season — 11 in his past 7 1/3 innings.
I don't know if it's possible to put aside debates over mental and guttal makeup when discussing Jonathan Broxton, but if we can try for a moment …
A big problem for Broxton right now is that the pinpoint control that he typically possesses has disappeared. He has walked more batters in his past two games than he walked in the first two months of the season.
Broxton averaged 3.4 walks per nine innings from 2006-2009, then opened 2010 with three walks (one intentional) in 29 1/3 innings, to go with 42 strikeouts, no home runs and a 0.92 ERA.
That period ends with the June 19 evening in Boston when he faced one batter and allowed a game-winning hit. In 10 2/3 innings since then, Broxton has walked eight while allowing 11 runs for a 9.28 ERA. This week alone, Broxton has walked four while allowing five runs for a 27.00 ERA.
Now whatever your thoughts about Broxton are, this is the story of two different pitchers. It's not as if every game before June 19 was meaningless and every game after was of huge importance.
Another angle is this: Broxton's batting average allowed on balls in play before June 19 was .358, which is on the high side for a major-league pitcher and certainly higher than Broxton's career figure of .315. But since June 19, his BABIP has skyrocketed to .448. So Broxton's loss of command has been coupled with an untimely bout of bad luck. (Look no further than Tuesday's calamity, when a 60-foot single by Juan Uribe was followed by a walk to Edgar Renteria, who entered the game with one home run and 13 walks for the entire season.)
I obviously don't need to tell anyone that Broxton has sprinkled bad outings throughout his career. There was of course the 2009 game in San Diego when he allowed three runs (plus an inherited runner) to score in the ninth inning, followed two days later by two runs allowed in an extra-inning victory at Milwaukee. On August 15, Broxton blew a save in Arizona that led to a huge outcry for him to be replaced as Dodger closer by … George Sherrill.
From that point on, Broxton pitched 21 consecutive innings without allowing an earned run, walking five, striking out 33. That streak ended with the ninth-inning disaster in Pittsburgh that cost the Dodgers an early chance to clinch the National League West. And so on …
I'm not sure if the struggles Broxton has been having lately are something more than his typical once-in-a-while problems, or if they are a sign of something more worrisome. What I do know is that the Jonathan Broxton we have seen lately is not the Jonathan Broxton we usually see.
Update: Here's another piece on Broxton, from ESPN.com's Tristan H. Cockcroft.