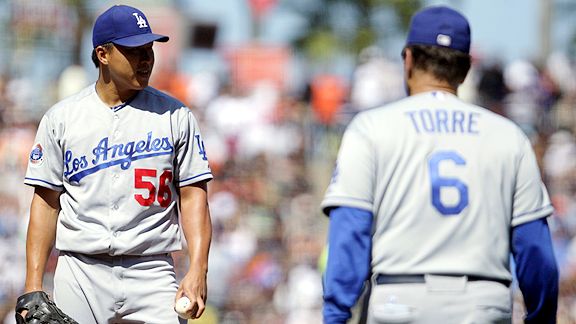 Ben Margot/APJoe Torre walks to the mound to replace Hong-Chih Kuo with Jonathan Broxton in the bottom of the eighth inning today.
Why am I unhappy about today's deadline deals?
After all, to reiterate a point I made this afternoon, the Dodgers now have a pitching staff that you can quite reasonably hope will shut down the opposition on a daily basis. The Dodgers have five starting pitchers with ERAs below 4.00, and that's not without significance. There's a formula in place for winning if the team can start hitting at all — something they might do, if these guys can get their act together and Manny Ramirez has one last spurt left.
Just when you think you know what will happen, you're caught off guard. Anyone from Clayton Kershaw to Ted Lilly can have a bad game, and pitchers can fall into ruts like the one Jonathan Broxton, who allowed a crushing, game-losing home run to the Giants today after falling behind in the count 3-0, currently finds himself in.
Today was a day Broxton gave more ammunition to his critics. Today was also a day Chad Billingsley left his naysayers mute. (I'm assuming there's some intersection between those two groups.) Stepping up to pitch on three days' rest, Billingsley extended his scoreless inning string to 21 2/3 innings. Heck, he even hit two batters — so there. And he would have gone even further in the game if not for a seventh-inning error by Rafael Furcal that, though it did not lead to a run, accelerated Billingsley's exit and might have been the first domino of today's loss.
In any case, the acquisition of Lilly helps the rotation, and the addition of Octavio Dotel, if nothing else, gives Joe Torre an arm he'll trust at the outset, which might spare us the destruction of other, more valuable arms.
So what's the problem?
The problem is that within 48 hours, the Dodgers traded Blake DeWitt, James McDonald, Lucas May, Elisaul Pimentel, Brett Wallach, Kyle Smit and Andrew Lambo for two months of Lilly, Dotel and Scott Podsednik and potentially a couple of more years of (grumble) Ryan Theriot. Two months of one decent starting pitcher and three marginal contributors.
It is impossible for me to believe those seven players, assembled together, would not have been enough to bring Cliff Lee to Los Angeles. It is impossible for me to believe these assets could not have been better used in some fashion.
And so whether Lee would have been the difference-maker for the Dodgers, whether or not the seven players traded away were going to be of much value going forward, it is impossible for me to feel good about what has happened.
Maybe Lilly, Dotel, Podsednik and Theriot go hog-wild and carry the Dodgers to a title. I have no way of saying that won't happen. But I'm not happy the Dodgers gambled what they gambled to make the bet that they made.
The Dodgers don't look particularly good entering the 2010-11 offseason. Three-fifths of the current starting rotation will be free agents, as will their left fielder, and the team will face serious offensive problems at no fewer than three other positions. This week brought an opportunity to begin addressing those problems, or make a bold move toward winning in the last year before those problems manifest. Instead, the Dodgers added, and subtracted and got a little better, but not a lot.
(I do find myself curious about the inquiries other teams made about Manny Ramirez. If the Dodgers don't rebound in the next couple of weeks, we might see Ramirez, who would have no trouble clearing waivers, unloaded — and see the rebuilding begin after all.)
Look, the Dodger are in a serious funk, and I'm not immune. If the team weren't on this latest four-game losing streak, we'd all feel better about things. So keep that in mind when I say that this week's trades feel more symbolic of the Dodgers' weaknesses, in ownership, front office and clubhouse, than like solutions to them. They are trades that seem destined to keep us wandering rather than reaching Shangri-La.