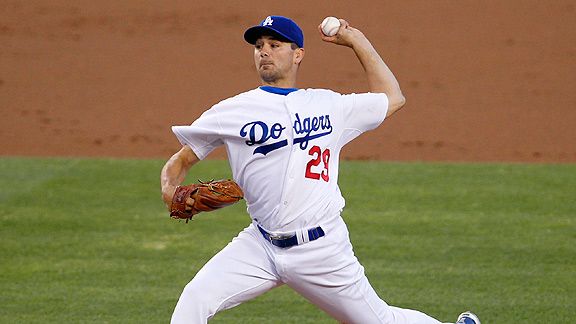 Danny Moloshok/APTed Lilly gave up a solo homer to Miguel Tejada in the first inning, a single to Adrian Gonzalez, and nothing else.
New Dodger starting pitcher Ted Lilly retired the final 20 of the 23 batters he faced in his debut with Los Angeles tonight, and Russell Martin's two-run, second-inning double made the outstanding performance count for a 2-1 victory over San Diego, ending the team's third six-game losing streak in six weeks.
The only mystery with Lilly's performance was why he was removed from the game after throwing 87 pitches over seven innings, 65 for strikes. But Hong-Chih Kuo and Jonathan Broxton closed things out, Broxton inducing a game-ending double-play grounder from new Padres outfielder Ryan Ludwick after first giving up a soft single to Jerry Hairston Jr. and, one out later, an intentional walk to Adrian Gonzalez.
Lilly's two-hit performance in his first Dodgers start came on the sixth anniversary of Brad Penny's two-hit performance in his first Dodger start (a game that ended with Eric Gagne nearly blowing a three-run lead in the ninth). Let's hope things go considerably better for Lilly than they did for Penny the next time out.