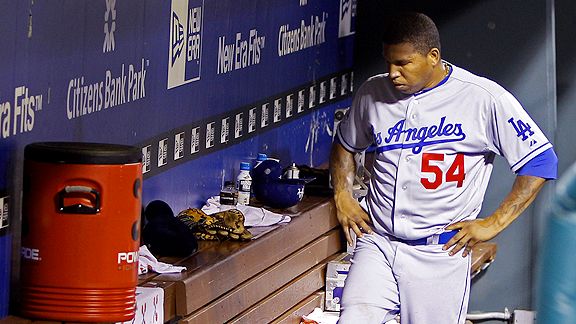 Matt Slocum/APRonald Belisario reacts after being pulled in the bottom of the eighth inning, a harbinger.
I don't have anything I feel compelled to say, but I feel compelled to say something.  That's usually a recipe for some pretty poor writing, but on a night like tonight, who will really notice?
For Jonathan Broxton, I refer you to this post. He's not himself, and he hasn't been himself for weeks now. That the latest catastrophe happened in Philadelphia adds a nasty spice to it all, but in his past trips there, the loss of control and blown saves were aberrations. The Broxton of the past two months has been someone else entirely. He's been George Sherrill, and not the good kind.
Personally, it's no fun seeing the perverse "I told you so" comments coming from Broxton's peanut gallery, some of them coming with the glee of validation, I suspect. I'm not defending what Broxton is doing now, but again, this is well beyond what happened with Broxton before. Since the All-Star break, 21 baserunners allowed in eight innings with five strikeouts. That's a different pitcher.
Meanwhile, those of us who have established tents in Broxton's camp saw something familiar: a brutal defensive lapse behind him, this time from Casey Blake. Too much water had blown through the dam for it to be called a gamechanger, but it certainly added to the aura of horror.
Ronald Belisario, making his third comeback from personal and health issues in 13 months, actually picked the right night to be bad – doing so with a 9-2 lead, thanks to strong pitching by Clayton Kershaw and a 20-baserunner offense by the Dodgers. Matt Kemp, back in the starting lineup, went 3 for 5 with a home run and four RBI. Every position in the lineup, except for pitcher, reached base at least twice. There was a cushion and then some – no thin Ikea futon, but a real honest-to-goodness plush living room sofa. And then the Phillies tore the stuffing out of it.
For more reaction, I refer you to this post. Vin Scully wasn't at tonight's game, and yet I still think about how he'd react to it. He'd marvel at it. And not be as deflated by it as I am. "Leave it to the Dodgers …"
As far as I can tell, every Dodger made their best effort tonight, and for 7 1/2 innings, they put on quite a show. And then baseball threw its weight around, once again proving that it runs the circus. I'd rather be writing about a Dodger win, but I don't get to decide.