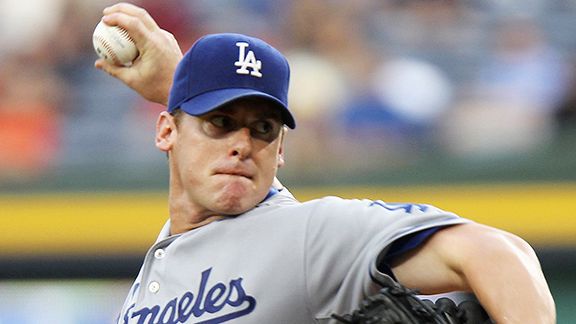 John Bazemore/APChad Billingsley's seven innings of one-run ball went for nought.
Brooks Conrad won the first game of the four-game Dodgers-Braves series with his bat. He nearly lost the fourth game with his glove.
But the reorganized Dodger bullpen got in the way of that symmetry.
Los Angeles blew a ninth-inning lead yet again, allowing three runs to Atlanta in its final at-bat, turning a 3-1 victory into a 4-3 defeat.
On a night that saw the Dodger offense pull another disappearing act, Conrad made two errors in the eighth inning of tonight's game, allowing the Dodgers to score twice to break a 1-1 tie. Update: The official scorer changed Conrad's error on Reed Johnson's at-bat to a hit.
Hong-Chih Kuo entered the game and worked a perfect eighth inning on seven pitches, then came out for the ninth and allowed two singles and a wild pitch to put the tying runs in scoring position with none out. Troy Glaus fouled out, but Conrad was walked on four pitches. Octavio Dotel then replaced Kuo.
Dotel walked pinch-hitter David Ross, and the Braves cut the lead to 3-2.
And then Melky Cabrera singled on a 3-2 pitch to drive in the tying and winning runs.
* * *
I know it's a bit beside the point after what just happened, but I am just wondering …
Chad Billingsley pitched seven innings for the Dodgers and allowed one run on five hits and a walk while striking out eight. Billingsley struck out the side after issuing his only walk of the game in the fifth inning, then gave up a triple and sacrifice fly in the sixth. Otherwise, he was near impeccable. (Coincidentally, James McDonald also pitched seven innings of one-run ball for Pittsburgh tonight.)
I realize some people won't get back on board the Billingsley bandwagon until he completes a perfect October, but surely he must have won a few converts back this season. He's challenging hitters, pitching deeper into games, and his ERA in 20 starts since April 25 is 3.23.
Has anyone who de-friended him re-friended him?