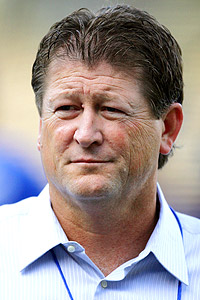 Larry Goren/Icon SMI
Logan White has supervised Dodger drafts since 2002.
Pretty nice 28 hours that Logan White just had.
Monday evening, White 2003 draftee Chad Billingsley finished his sixth consecutive quality start, with an ERA of 1.33 in that span.
Tuesday evening, White 2006 draftee Clayton Kershaw threw seven shutout innings in the Dodgers' 6-0 victory over Colorado and moved up to third in the National League in strikeouts.
And in between, White converted his bold first-round selection of Zach Lee into what might be the coup of the 2010 draft.
Lee's reported $5.25 million deal was more than twice the size of Kershaw's draft-year signing, in part because of the leverage that college football provided Lee, but it also reflects the belief that Lee could make the kind of remarkable impact for the Dodgers that Kershaw already has.
We might not get to see all three of these pitchers in the same Dodger rotation — Billingsley becomes eligible for free agency after the 2012 season, while it might be a rush to get the teenage Lee to the bigs by then — but there is that tantalizing possibility. And even if it doesn't happen, you can be pretty sure the past two nights haven't gone unnoticed inside baseball.
Put another way, even if there comes a weekend series in the September 2012 stretch run with Kershaw, Billingsley and Lee on the mound for the Dodgers, will White be around to see it?
White has long been an attractive candidate for other front offices in baseball, certainly from a scouting viewpoint but also in terms of general manager openings.  Getting Lee to the Dodgers — convincing both parties to get on board — when almost no one thought he could, adds a new layer of appeal.
The signing arguably turned around a year in which, aside from Kershaw and Billingsley, things went a little south for White's other prodigies. There was Blake DeWitt's and James Loney's lack of home-run power, Russell Martin's ongoing fade and Matt Kemp's backward steps. There was James McDonald once more not seizing the day (though he seems to be thriving in Pittsburgh), and Scott Elbert's disappearing act. And there was a mixed bag of results on the development front in the low minors — some remarkable advances like that of Jerry Sands, some retreats by others.
But Kershaw, Billingsley and Lee serve as a reminder that betting on White is about as safe a gamble as you can make in — this can't be over-emphasized — an inherently risky field. I have no idea what specific interest other teams will show in White, but as the Dodgers make their lengthy to-do list for the 2010-11 offseason, one item that needs to be on it is "Keep Logan White happy." Unless you subscribe to the philosophy of, "If you love someone, set him free."