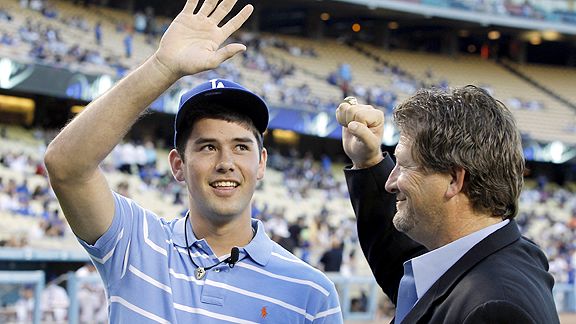 Chris Carlson/APLogan White introduces Zach Lee to Dodger fans before tonight's game.
In the three games that Jonathan Broxton has pitched in since he lost his status as the Dodgers' top reliever, he has twice been used in situations that, if I were manager, I would probably use the team's top reliever.
Friday at Atlanta, he was the first reliever used with the Dodgers down by a run in the eighth inning. Tonight against Colorado, he was the first reliever used with the Dodgers tied in the eighth inning.
Those, for some reason, are considered lower-pressure situations, even though they are situations when it's almost imperative you don't give up a run. Certainly, they are tougher assignments than when you enter a game needing three outs with a three-run lead, as was the case Thursday in Philadelphia.
Meanwhile, in the last two games he has pitched in since he was promoted to co-closer status, Octavio Dotel has flailed, giving up a walk and a game-winning single Monday, and then tonight's crazy appearance in the 10th, walking three and throwing three wild pitches to bring about the Dodgers' 3-2 loss to the Rockies.
Not trying to make too much of this, just that it's kind of goofy. But then, such is the baseball scene in Los Angeles. Broxton certainly knows how ridiculous it can get.
Once again, Hiroki Kuroda pitched well: seven innings, seven baserunners, seven strikeouts. Once again, the Dodger offense struggled, compounded by a missed suicide squeeze attempt by A.J. Ellis. And once again, the Dodgers lost more of what little ground they have left in the playoff race.
The game's final play had its own brand of poetry. With Reed Johnson on first base and two out, Scott Podsednik hit a blooper to center. Dexter Fowler dove but couldn't glove the ball. Johnson, racing around the bases, tried to score, but was nailed at the plate in "from you to me" fashion by Troy Tulowitzki's relay. Even Steve Lyons, on the postgame show, questioned why Bowa would send the runner on a longshot attempt against Tulowitzki's arm.
Anyway … Manny Ramirez walked, singled and struck out as a designated hitter in his rehab game tonight. He had no health issues, according to the Dodgers, and is expected to play the field tomorrow.