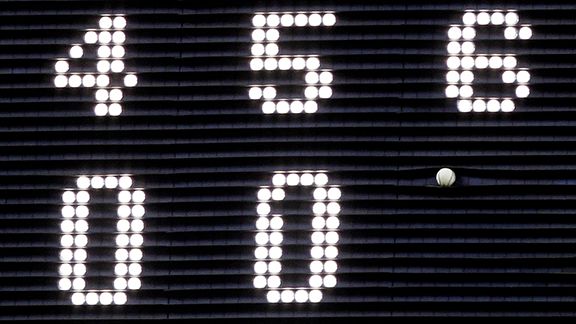 Morry Gash/APThe home run hit by Matt Kemp tonight sits lodged in the center field scoreboard in Milwaukee. (
Update:
New reports are saying this isn't Kemp's ball. Oh well.)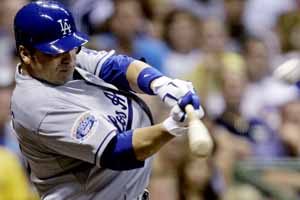 Morry Gash/AP
Rod Barajas homers in the sixth inning.
Rod Barajas figures to command in 2011 salary about the $850,000 that Brad Ausmus made in 2010, give or take a few bucks. After what happened in just one night, it seems almost assured that the catcher who grew up in Norwalk idolizing Fernando Valenzuela will be commanding that salary from the Dodgers.
Barajas  doubled twice and hit a three-run homer in an unprecedented Dodger debut, lifting the Dodgers to a 5-3 victory over Milwaukee. He is the first Los Angeles Dodger to have three extra-base hits in his first game with the team, according to Eric Stephen of True Blue L.A.
While the Dodgers wouldn't position Barajas as a starter, he could fit in rather smoothly as a reserve for a team that might be tired of no-hit backups.
Matt Kemp hit a massive two-run homer in the second inning for the Dodgers to give them an early lead. Ted Lilly, though he didn't come back to earth following his 1.29 ERA inauguration with the team, at least re-entered the solar system by falling behind, 3-2 in the fifth inning. But Lilly (6 1/3 innings, three runs, eight baserunners, two strikeouts) was rescued by a rare Dodger rally, featuring Barajas' homer, the 11th three-run homer by the Dodgers this year.
In six innings, Barajas generated as many extra-base hits as A.J. Ellis and Brad Ausmus combined had this year.
Pitching the ninth inning with the two-run lead, Hong-Chih Kuo threw away a potential game-ending double-play ball, leaving the tying runs at first and second with one out. But pinch-hitter Corey Hart popped out, and Rickie Weeks (who homered earlier off Lilly) struck out.
Lilly is now 5-0 as a Dodger.