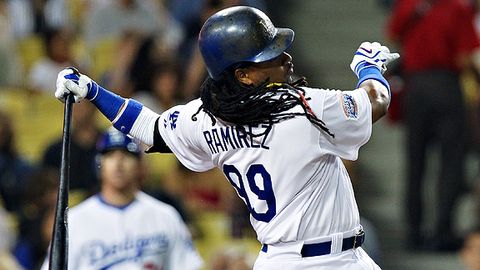 Adam Davis/Icon SMIManny Ramirez at bat for the first time after coming off the disabled list Saturday.
Manny Ramirez has been placed on waivers and could soon be on the move from the Dodgers, if (1) he goes unclaimed on waivers and is traded or (2) if he is claimed on waivers and the Dodgers work out a deal with that team. Ramirez can be moved anytime before the season is over, but the deal must be done by Aug. 31 if he is to have postseason eligibility with that team.
For all his faults, Ramirez — at least the good, healthy Ramirez — has truly been missed by the Dodgers, as Tony Jackson of ESPNLosAngeles.com wrote earlier this week. Maybe it's correlation that the team slumped offensively once Ramirez stopped being a regular part of the lineup at the end of June — maybe Ramirez would have been just another piece of a miserable pie — but let's just say that it would have been nice to see what the parallel universe with a healthy Ramirez in the lineup would have looked like.
His hitless return since Saturday hasn't helped matters, but I've been wondering if Ramirez's prolonged absence this summer redeemed any of his value in the eyes of his detractors, similar to how the Dodgers' recent struggles at catcher (pre-Rod Barajas) might have compelled people to look at the bright side of Russell Martin. Probably not, I suppose. Ramirez, who was an unqualified success from his July 2008 acquisition until his May 2009 suspension, has become a fan punching bag (one of many) in the past year.
It didn't take long for the zeitgeist to zip from Mannywood to Anyone but Manny. Juan Pierre's brief hot streak that spring certainly fueled some of that transition, along with general disgust toward Ramirez's transgression. When Ramirez came back last summer, there was the Bobbleslam, but that was a last bit of fireworks in a fizzling of popular opinion after he turned out not to be the magical hitter he had been.
The depth of the souring on Manny became even more apparent when people actually got angry after Ramirez stated what couldn't have been more obvious — that after his Dodgers contract expired this season, he would be taking his aging body elsewhere. It was no more a statement of disloyalty than a second-term president acknowledging the 22nd amendment — and of course, no one's raising any loyalty issues against the Dodgers for now possibly unloading him to another team — but it somehow became another bullet in the chamber against Ramirez's reputation. Thereafter, Ramirez stopped talking to the press, which was of no moment except that it ticked off the press.
In any event, the season began, and it became clear that Ramirez was a different sort of hitter than he had been — still an effective hitter, but one for whom the long ball was an increasing rarity. Joe Torre rested him to protect his legs, but it didn't help, not enough, anyway. Ramirez was a top that had been spinning a long time, and was wobbling, and finally, as summer came, fell down.
And like him or not, the Dodgers needed that top to keep spinning.
The lingering issue is whether Ramirez essentially took himself out of the game — whether he bailed on the team. I don't happen to think that's the case. I think Ramirez had plenty of personal incentive to get himself back in the lineup — with each passing week on the disabled list, his value in 2011 declined, and it's not as if Ramirez is wholly lacking in professional pride. The guy's legs have stopped working.
Maybe Ramirez will announce his retirement at the end of the season, and people will go back and determine that he had mentally checked out months earlier. I doubt it. Ramirez is, for all his eccentricities, an athlete, one who was working out in Arizona and not just because he enjoys life amid the cacti.
It might be days or even weeks too early to talk about Ramirez's Dodgers legacy — I'm not gonna have much left to say when his time is actually up — but unless destiny exercises its prerogative to change its mind on this meandering season, we're close to being able to render a final judgment. Ramirez was unbelievable in 2008 for the Dodgers, a freight train at the plate. That he couldn't live up to that performance in the next two years wasn't surprising, but it doesn't take away from what he did. And for whatever crimes he did, he did the time. I, for one, choose not to throw back the Dodgers' 2008 and 2009 National League Championship Series appearances.
Ramirez was a vital part of the Los Angeles Dodgers the past 2 1/2 seasons, both in his presence and in his absence. His career faded at the end, but outside of Sandy Koufax, outside of someone retiring in his prime, is that in any way unusual? Anyone remember how Kirk Gibson's final year in a Dodgers uniform went?
Manny Ramirez was mortal, unforgettably so. I only wish we had more of him, not less.