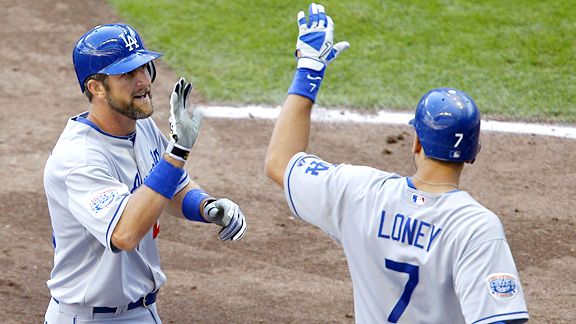 Jeffrey Phelps/APCasey Blake gets a post-homer high-five from James Loney.
Cynicism be damned, the Dodgers are still playing meaningful games.
With Manny Ramirez's future still uncertain, Los Angeles defeated Milwaukee, 7-1, to complete a three-game sweep of the Brewers and move within five games of the National League wild-card lead.
"It doesn't mean the Dodgers are a good team, let alone a playoff team," I wrote 10 days ago. "But you don't need to be a good team to have a good week. And, rightly or wrongly, a good week can change your outlook significantly."
Though the Dodgers are living on the edge, their next three series are against three of the four teams ahead of them in the wild-card race: Colorado, Philadelphia (swept this week by lowly Houston) and San Francisco. So if you had stopped paying attention or were planning to, you might still be forced to take a peek. (You can keep one eye closed if you want).
The Dodgers nursed a 1-0 lead until starter Carlos Monasterios gave up a fourth-inning solo homer to Prince Fielder. The Dodgers got a run back in the top of the fifth, positioning Monasterios to get the win, but the youngster walked opposing pitcher Yovanni Gallardo and then hit his second and third batters of the game to load the bases.
Joe Torre, who used three pitchers for a batter apiece in Wednesday's ninth inning, continued on his "You think you've seen me manage? You haven't begun to see me manage" crusade. He brought back Ronald Belisario (pitching in his third straight game) and George Sherrill to each get an out and extract the Dodgers from the bases-loaded, none-out jam.
After that, the offense took over. Casey Blake hit a two-run homer in the sixth, and then a one-out walk to Kenley Jansen (who walked one and struck out four in two innings) keyed a three-run seventh inning that broke the game open. And the bullpen not only didn't blow the lead, it allowed no hits, as Octavio Dotel and Jeff Weaver wrapped up the combined two-hitter.
By comparison, Scott Podsednik, starting in left field while Ramirez took his scheduled day-game powder, had three hits by himself, as did Rod Barajas' understudy Brad Ausmus. Ryan Theriot added two knocks.
The two teams combined to strike out 23 batters, 11 by Dodger pitchers, 12 by Milwaukee. Gallardo, who entered the game with a 3.28 ERA, struck out 10 but was charged with six runs in 6 1/3 innings.